"BOX OF WONDERS" SPECIAL EDITION OF GREETINGS FROM LAKE WU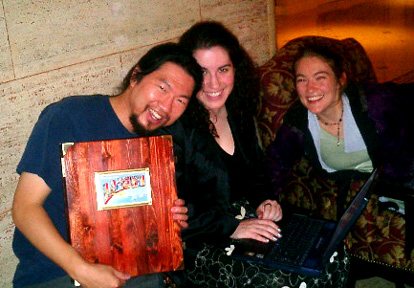 Artist Frank Wu holding Box of Wonders prototype, with pals Diana Sherman and Simran Khalsa
We will be releasing the collection Greetings from Lake Wu - stories by Jay Lake and images by Frank Wu - as a special, very limited "Box of Wonders" edition of the book.
This will feature a hand-made wooden box (built and hand-finished by the artist), with brass trim and lined with plush faux fur. Inside will be the book, a variety of tchotchkes and a complete portfolio of color prints of each of the illos in the book. (The illos in the book itself are in BW, but the Box of Wonder prints are color.) The book and the set of tchotchkes will be in separate draw-string cloth bags made of really cool fabric. The books will be autographed by the writer, artist, publisher Deb Layne and writers of introductions Andy Duncan and Lori Ann White. In each box, the set of tchotchkes will be different; in the prototype, they included glass beads, smoky quartz from Australia; a Mexican arrowhead; a Chairman Mao medallion; and a Thunderbird 2 toy. The Boxes of Wonder will also contain a color map of the Lake Wu region. The Boxes will be limited to an edition of 26, lettered A to Z (or Zed if you are in Canada). As an added special bonus, it will also include the only copies of single-page, typewritten stories written by Jay, one for every letter, with an accompanying original drawing by Frank. (Some of these details may vary slightly between now and final production.) The Boxes should all be available by World Fantasy Convention (Hallowe'en weekend), but some have already been pre-ordered. The final price has not be determined, but will be $150. To reserve your copy of this very special edition (and about half of them have been reserved with letters claimed) email the author Jay Lake or the artist Frank Wu.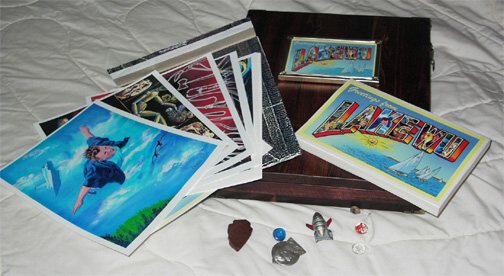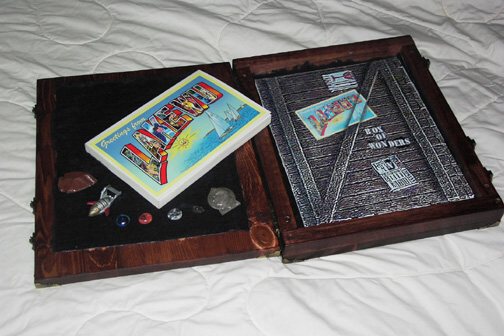 Red, white and blue glass beads; smoky quartz from Adelaide, Australia, found by my friend Ben Lethbridge in his backyard; a Mexican arrowhead; a Chairman Mao medallion; and a Chinese-made unlicensed knock-off of Thunderbird 2.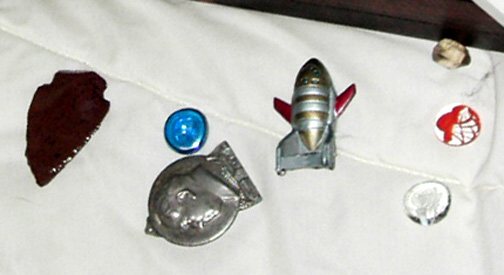 Here are some of the other boxes I've made: