Cover for the anthology Intracities, edited by Mike Jasper. This will go on sale at World Fantasy Con at the end of October. Or you can pre-order it here.
Each of the stories features the writer writing about his hometown. The various little bits illustrate things from the different stories - by authors Mark Siegel (Phoenix, AZ); Mary Madewell (Las Vegas, NV); Chris Babson (Fuquay, NC); Melissa Yuan-Innes (Montreal); Claude Lalumière (Montreal); Jay Caselberg (London); Heather Shaw and Tim Pratt (Oakland,CA); Jason Erik Lundberg (Cary, NC); Paul E. Martens (Rensselaer, NY); Jay Lake (Portland OR); Jeffrey Turner (Fort Worth, TX); Rachel S. Heslin (Big Bear, CA); Peter Hagelslag (Novorossiysk, Russia).
Here's the cover with the title text. Mike graciously decided to have very little text, so as not to cover up too much of my art. What a guy!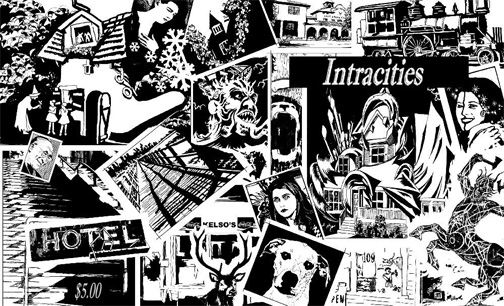 Email to Frank Wu
Image (c) 2003 Frank Wu