Cover for Daniel Pearlman's book The Best-Known Man in the World and Other Misfits
illustrated by Frank Wu
This book, a collection of short stories, is the first to be published by Aardwolf Press.
The title story is about a poet who believes that one way to gain literary immortality is to leave a huge archive of his life for later scholars to study. So he decides to record every moment of his life, every thought, every event, on videotapes, CDs, and later, other new media. For an excerpt from the story, click here.
The completed cover looks like this: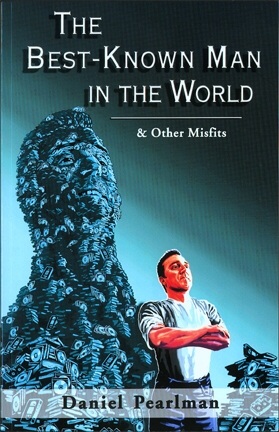 The book is available from the publisher for only $14.95 + $2.50 S&H (check or money order) sent to: Aardwolf Press, P.O. Box 14792, Durham, NC 27409-4792

Email to Frank Wu
Image (c) 2001 Frank Wu
The reviews are starting to come in for this book. Forrest Aguirre, of Project Pulp, wrote: "The book arrived on my 10th wedding anniversary. The glossy cover illustration by Frank Wu intrigued me, the production values dazzled me - this was an artifact worth holding."