An illustration for the story "Slugball" by K. Mark Hoover, published in the May 7, 2001, issue of the Hugo-nominated internet magazine Strange Horizons. (A second illustration, published May 14, 2001, is at the bottom of this page.) SH is up for a 2002 Hugo for best website - and this is the first year they have had Hugos in this category.
In the "Slugball" story, the future Earth is polluted and over-populated. But there is a starship leaving to go to a new home on another world. To earn a seat on the starship, people compete in a televised game called "Slugball," which involves lots of running around, blowing stuff up, and kicking and shooting the other contestants. Kind of like "Survivor" with nuclear weapons. Our heroine, Irina Tal, is competing in Slugball for a slot on the spaceship for her daughter Christina.
Email to Frank Wu
Image (c) 2001 Frank Wu
Strange Horizons chose my illo 1 for "Slugball" to be the first illo to put on official SH coffee mugs, T-shirts (long and short sleeve), tote bags, mouse pads and sweatshirts. They are now available for purchase from cafepress.com.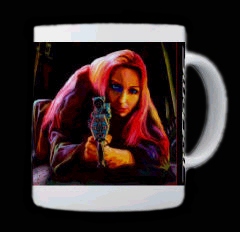 Here is the second illo I did for "Slugball". Illo 2: