HOME - JR HOME - JR SONG INDEX - JR LYRICS
FRANK WU's JONATHAN RICHMAN PAGES
Since my friend Lisa introduced me to Jonathan, I have totally fallen in love with his music. I knew his "Pablo Picasso" song from Repo Man, but didn't know any of his other stuff. A few days ago I blew about a hundred bucks to fill out my Jonathan collection. Lisa loved songs like "When Harpo Played His Harp" and, possibly her all-time favorite, "That Summer Feeling." Jonathan is so cool because, especially in his early stuff, he sang and played with such a punkish attitude. But a quick analysis of his lyrics shows that he's not really a punk at all. Singing about how fun it is to work in a government center? Singing about how some girl cracked because she's doped out on drugs, but he'll never do that? Singing about some guys trying to pick up girls are deservedly called names? Singing about how your boyfriend is all drugged out, but he's not and shouldn't you date him instead? These are not punk themes. Dead down inside, Jonathan seemed intrigued and attracted to and sucked into bizarre weirdness like dive bars and vampire girls, but that's not really where he was at. He is really this over-grown man-child, in love with dinosaurs and airplanes and falafel and squirtguns. That's what Jonathan is really about.
I finally had the ultimate joy Jan. 29, 2003, when I saw Jonathan in concert in Sacramento. We got there early enough to watch him do his soundcheck, and then I had him autograph a purple squirtgun for me. Life is sometimes just too wonderful.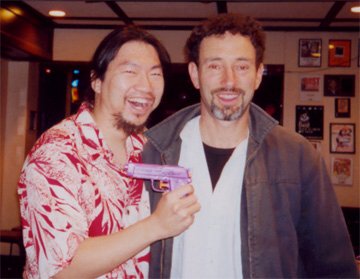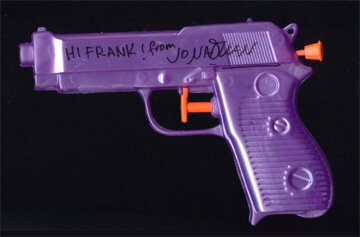 He played a bunch of songs in Spanish, "Vampire Girl" (which was hilarious), "Girlfriend", "I Was Dancing in the Lesbian Bar," "You Can't Talk to the Dude", but nothing from Modern Lovers 88. Best small-venue concert I ever saw.
The point of this website is to collect some Jonathan information which is scattered around the web, but not in any coherent or complete way, and to fix it up and add to it. Mainly at this point I'm working on:
Jonathan Richman song index (which songs are on what albums)
Jonathan Richman lyrics library
UPCOMING TOUR DATES (June, 2003). These dates are from Pollstar because the Vapor Records site isn't updated:
Fri
06/06/03
Chicago, IL
Metro / Smart Bar
Sat
06/07/03
Cleveland, OH
Grog Shop
Sun
06/08/03
Ferndale, MI
Magic Bag
Mon
06/09/03
Toronto, ON
Lula Lounge
Tue
06/10/03
Toronto, ON
Lula Lounge
Wed
06/11/03
Toronto, ON
Lula Lounge
Thu
06/12/03
Montreal, QC
Cabaret Music Hall
Fri
06/13/03
Winooski, VT
Higher Ground
Sat
06/14/03
Portland, ME
Space
Mon
06/16/03
Providence, RI
Met Cafe
Tue
06/17/03
Providence, RI
Met Cafe
Thu
06/19/03
Somerville, MA
Somerville Theatre
Fri
06/20/03
Wellfleet, MA
The Beachcomber
Sat
06/21/03
Northampton, MA
Iron Horse Music Hall
Mon
06/23/03
New York, NY
Knitting Factory
Tue
06/24/03
New York, NY
Knitting Factory
Thu
06/26/03
New Brunswick, NJ
Court Tavern
Fri
06/27/03
Philadelphia, PA
North Star
Sat
06/28/03
Rehoboth Beach, DE
Dogfish Head Brew. Co.
More stuff will be added later.
Enjoy!
Radio On!
HOME - JR HOME - JR SONG INDEX - JR LYRICS