Acrylic painting, 16 x 20.
"Vessel of Heaven" by Frank Wu
For the electronic book by Jamie Rosen, published by Eggplant Productions.
Details, which show some of the models: (1) author Avi Bar-Ze'ev; (2) Avi's brother Dan and Susan Groppi, an editor at Strange Horizons; (3) spaceship close-up.
3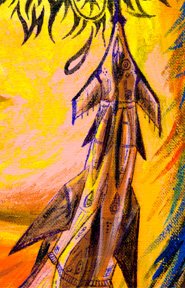 Here's the account of me taking fotos of Susan Groppi at Avi's house-warming/novel's-done party (from Susan's blog): "One of my favorite moments all weekend, though, came at the housewarming party. Frank Wu was telling us about problems he was having finishing his most recent commissioned piece, a book cover, and suddenly he stopped talking mid-sentence, jumped up out of his chair and came over to mine. "Here, wait, can I do something?" And from there he took off my glasses, shifted me around in my chair, posed me with one arm up in the air and my head tilted back. Told me not to move while he went to find his camera. So now I'll be on the cover of a book, or rather, a figure based on me will take up a small part of a large group scene in a Frank Wu painting. Bet it's not as recognizable as the little Jay Lake that's in one of his new portfolio pieces, though."
Images (c) 2003 Frank Wu
And here's the actual cover with typography and everythin':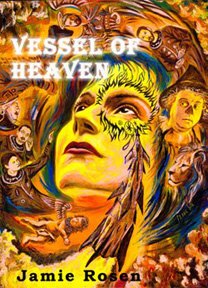 ---