MORE FOTOS OF THE BONE ROOM

Human skulls, most from China, on sale at The Bone Room. The middle skull was from the office of San Francisco dentist Dr. Becky Carter. The jaw was cut open and wired to show the nerve locations.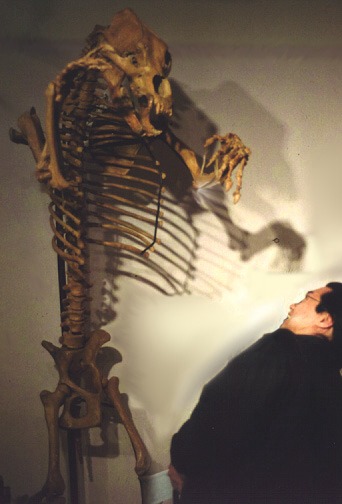 Cave Bear fights Frank. Cave Bear wins.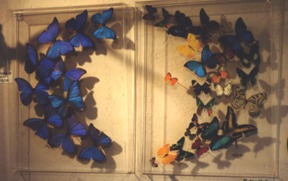 Butterfly sweep.
The Bone Room also has its own (live) 12-foot long albino Burmese python. Its birthday is June 1, 1987, it's the color of lemon meringe pie, and it's even appeared in GQ. People often ask about their freeze-dried cat, but they sold it.
The Bone Room, 1569 Solano Ave., Berkeley, California 94707, 510-526-5252.
Back to Kitsch Tour
Back to Dave's Down to Earth Rock Shop Page