WEDNESDAY TRIVIA QUIZ 89
WE COULD BE HEROINES
Name the real-life heroines described in these clues. (There are millions out there; it was hard to choose just a few.)
Special thanks to Paula Borden for helping me with this quiz. Another "heroines" quiz will be coming up in a few weeks.
Have fun.
Women in the Bible:
1. Who are the two women with books of the Bible named after them?
2. Who risked her life to save the lives of two spies sent by Joshua to Jericho?
3. Who killed the commander of an enemy army by affixing his head to the ground with a tent peg?
Women in Politics:
4. Who was the first First Lady to capture a Grammy award and for what did she win?
5.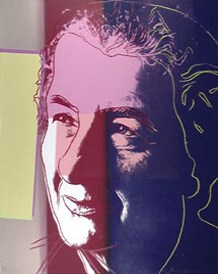 Who is this woman, depicted in a 1973 Andy Warhol print, and of what country was she the first female prime minister?
6.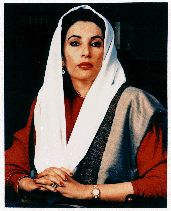 At the age of 35, she became the youngest chief executive in the world and the first woman prime minister in the Muslim world. Her rise to power followed a decade-long struggle, in the face of unthinkable oppression, to restore democracy and human rights. Working with President Clinton, she was successful in reestablishing normal bilateral relations between her country and the United States. Name her.
7. This freshman senator, though she is only ranked 91 out of 100, had proposed a compromise ending for the trial of President Clinton. This plan, which for a time gained great favor, would have allowed Senators to adopt "findings of fact" detailing the president's alleged misconduct before a final vote on impeachment. Who is this remarkable woman?
Women in the arts:
8. She wrote: "I am to replace my mother, whose seat at the mah jong table has been empty since she died two months ago."
9. She was born of sharecroppers, but rose above her roots. She taught at Howard and Yale, and later became an editor at Random House. This author wrote six novels, including "Song of Solomon" and the Pulitzer Prize-winning "Beloved," which was recently filmed. She was the first black American and the eighth woman to win the Nobel Prize for literature and was lauded for the "visionary force and poetic import" of her writing. Who is she?
10. She's written pieces for stage and TV, but her most famous work, which has spawned numerous clubs, begins, "Tap-dancing child abuser. That's what the Sunday New York Times from March 8, 1993, had called Vivi."
11. What nun sometimes ventures from her solitude at a Carmelite monastery to share her personal insights into great paintings?
Women in sports:
12. Tara Lipinski, Olympic gold medal winner for figure skating, entered the record books as the youngest woman to win a figure skating title. Whose record did she break?
13.

Like the woman in question 9, she was born of sharecroppers. She became the first black athlete - male or female - to enter United States Lawn Tennis Association tournaments. She was the first African-American to win a Wimbledon singles title, and the first to win the U.S. Open. After her tennis career, which included five Grand Slam titles, she took up golf and became the first black woman with an LPGA card. Who is she?
14. She won 102 consecutive games from college to her stint with the New York Liberty (WNBA). She was the youngest member of the Gold medal-winning 1996 USA Women's Olympic Basketball Team. She was the consensus National Player of the Year in 1995 and received the Wade Trophy. She is UConn's all-time leader in rebounding (1,286) and blocked shots (396) while averaging 16.9 ppg during her four-year career. She was the 1994 and 1995 Big East Conference Player of the Year and Basketball Scholar Athlete of the Year. She earned a degree in Political Science, appeared in an episode of "Mad About You" and once went jogging with President Clinton. Can you name her?
Women in science & technology:
15. Aboard the space shuttle Challenger, she became America's first woman in space.
16.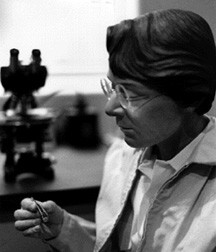 This geneticist, who studied corn her whole life, upended the established notion that genetic material is entirely stable and fixed, like pearls on a string. She discovered "jumping genes" or "transposons", which moved around the chromosomes; i.e., the pearls could swap places. Her research was first published in the 1940's, but the great significance of it wasn't realized until much later and she was awarded a belated Nobel Prize in 1983. Name her.
17. This German geneticist shared a Nobel Prize for her studies in the development of fruit flies, research that may help to explain congential diseases, birth defects and miscarriages in humans. What's her name?
18. This "Amazing" person, who was the first woman promoted to captain in the navy while on the retired reserve list, was the programmer of the world's first large-scale digital computer, the Mark I. Her work resulted in the first computer language compiler, and she developed the computer language COBOL. In 1983, she was appointed rear admiral. Name her.
Other Great Women:
19. There are still over one hundred million anti-personnel mines scattered in over fifty countries around the world. These leftovers of wars lie unrecorded and unexploded, waiting to maim and kill. Often their victims are curious children. This woman was co-recipient for the 1997 Nobel Peace Prize for her work in the banning and clearing of these mines.
20. Smart and sassy, she was the only woman in her New York Law School class. After being a prosecutor in family court, she was appointed to the Manhattan bench in 1982, and now, at age 55, has her own TV courtroom. Who is this judge?
For answers click here. For next quiz, click here.
HAVEN'T HAD ENOUGH? CHECK OUT THE TRIVIA ARCHIVE!
Back to Science Fiction Art
Back to Science Fiction and Humor Writing
Back to The Official Frank Wu Website homepage