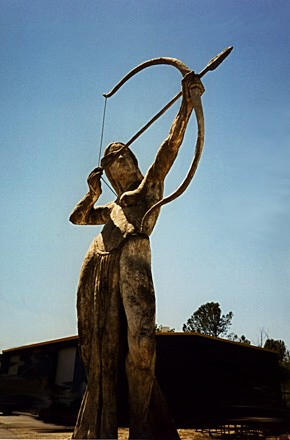 GIANT NAKED STATUES, Auburn, California
"Amazon Archer." Kenneth H. Fox.
42 feet tall, 150 tons, with a one and a half-inch thick layer of concrete laid over a skeleton comprising 1.5 miles of rebar that took six months to assemble.
Auburn Councilman O.C. Taylor once proposed that this statue be moved from its location outside Fox's office to a prominent stop visible from Interstate 80. One critic to this idea noted that the statue might present a dangerous distraction to motorists. An area resident suggested in response that the statue instead be placed on No Hands Bridge as a gauge to measure the water level.