GALLERY OF FRANK R. PAUL's SCIENCE FICTION ARTWORK
artwork (c) Frank R. Paul estate
Cover Art by Frank R. Paul for April 1941 Future Fiction.
Very interesting spaceship designs. The ship on the left is an interesting combination of nacelles and round elements, with a "rollbar" between the nacelles. The ship on the right has not only the main engines in the back, but also a series of smaller jets (for steering?) around its waist. Interesting.
In the following month, another Paul space battle was published on the cover of Comet Stories, but this latter piece wasn't the visual triumph of the Future Fiction artwork. These ships were more conventional flying saucers.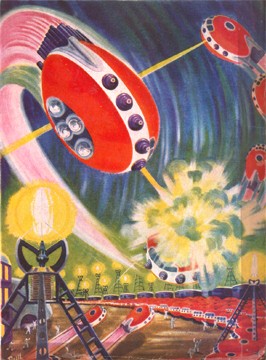 Back to Frank R. Paul Gallery Main Page
---
Back to Frank Wu's Science Fiction/Fantasy Art
Back to Kitsch Tour U.S.A.
Back to Official Frank Wu Homepage