GALLERY OF FRANK R. PAUL's SCIENCE FICTION ARTWORK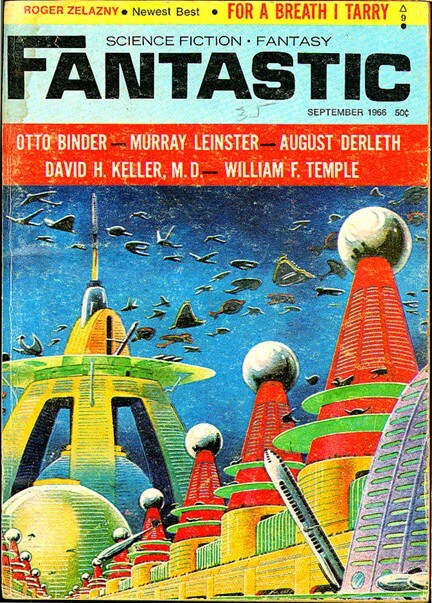 artwork (c) Frank R. Paul estate
One of the most reproduced for all Frank R Paul images. Art originally for the back cover of the April 1942 Amazing Stories, reprinted here in September 1966 Fantastic Stories, entitled "City of the Future." Fantastic Stories usually cropped Paul's work in reproducing it. The original back cover shows much more below the horizon line: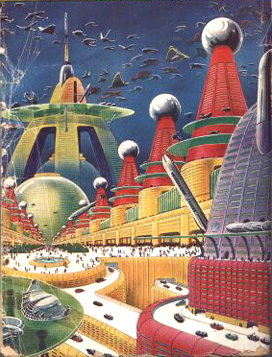 Note that Paul's sky is filled with a myriad of planes, but I find it every interesting that they are all flying in such tight formations - like the aircars in The Jetsons, flying in organized highways in the sky.
Paul's image also appears in Ray W. Boeche's cover design for a 2000 University of Nebraska Press paperback reprint of H.G. Wells' novel The Sleeper Awakes. (This is a reprint of the 1910 revision of the 1899 British version.) About the use of this image, Ray wrote me to tell me: "The rights to use this image were purchased from Wood River gallery, through Image Club Graphics. This particular illustration was No. 27 on a CD collection called Circa: Art, Science Fiction."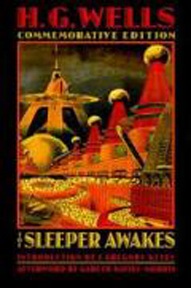 This image was also used as the cover for Yesterday's Tomorrows, by Joseph J. Corn and Brian Horrigan, 1984, Johns Hopkins Univ. Press. Paul is given a credit, though the issue is mislabeled on p. iv.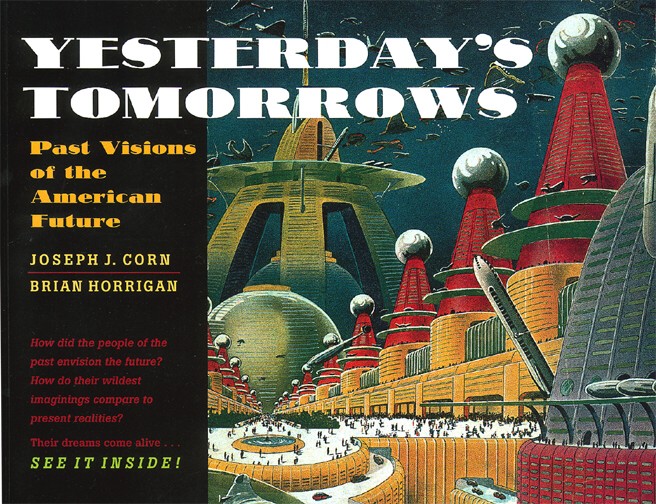 Both the Paul image and the phrase "Yesterday's Tomorrows" were recycled for a Smithsonian Institute exhibit. The exhibit began in March 2001 and will travel for five years to various states; its website is here.
From their website: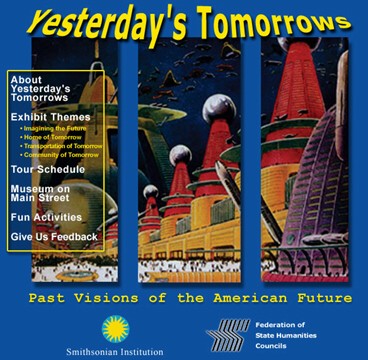 From the actual exhibit: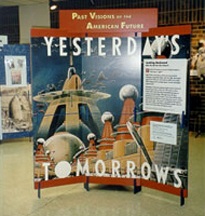 In yet another appearance by this famous work, it appeared on the back cover of David Kyle's A Pictorial History of Science Fiction, 1976, Hamlyn Publ. Grp., London.
Back to Frank R. Paul Gallery Main Page
---
Back to Frank Wu's Science Fiction/Fantasy Art
Back to Kitsch Tour U.S.A.
Back to Official Frank Wu Homepage