GALLERY OF FRANK R. PAUL's SCIENCE FICTION ARTWORK
artwork (c) Frank R. Paul estate
Cover art by Frank R. Paul reprinted in October 1968 Fantastic Stories, entitled "The Light of Spica."
This illo was originally from the back cover of Amazing Stories, March 1945: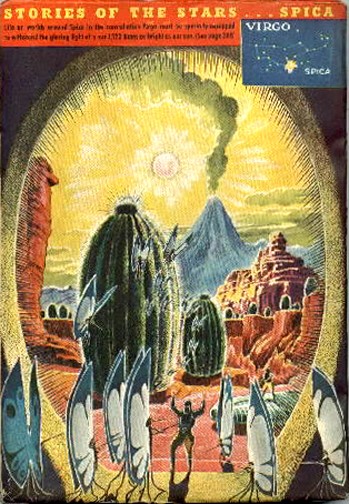 Paul's artwork was regularly reprinted on the cover of Fantastic Stories, which later died out. The print SF magazine Pirate Writings recently changed its name to Fantastic Stories, and thus is a de facto revival of this old mag. On a personal note, the Winter 2000 issue of the new Fantastic Stories will feature interior art done by yours truly. Thus, I take no small pride in that, via this magazine, my name will be linked to the Great Frank R. Paul's.
Back to Frank R. Paul Gallery Main Page
---
Back to Frank Wu's Science Fiction/Fantasy Art
Back to Kitsch Tour U.S.A.
Back to Official Frank Wu Homepage