GALLERY OF FRANK R. PAUL's SCIENCE FICTION ARTWORK
artwork (c) Frank R. Paul estate
Cover art by Frank R. Paul for March 1930 Science Wonder Stories, illustrating "Before the Asteroids" by Harl Vincent.
Paul was a master of composition. He often used large space-cannons or other humongous cylinders as compositional elements. These diagonals really "activate" the image (in the parlance of artists), even if the objects portrayed are, in essence, static. For other examples of Paul drawing big guns, check out The Martian Gun from the Jan. 1932 issue of Wonder Stories, and another space-gun from the July 1935 issue of WS. Interestingly, in each of these images with a very large cylindrical structure, there is also a large round object, too, like the earth. A cylinder and a round thing. You draw your own conclusion. :o)
Here is another example of this sort of composition, though the large cylindrical object (which is not explained in the issue itself) appears to be some sort of mining apparatus.
From the Jan. 1941 issue of Comet Stories: cover art, with detail: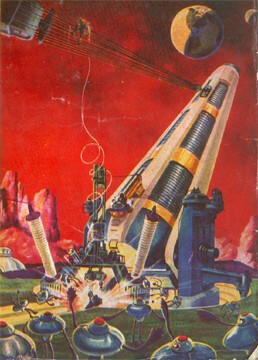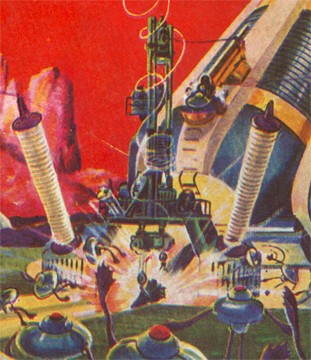 Back to Frank R. Paul Gallery Main Page
---
Back to Frank Wu's Science Fiction/Fantasy Art
Back to Kitsch Tour U.S.A.
Back to Official Frank Wu Homepage