TREES OF MYSTERY
SCARY...
Northern California is full of redwoods. Huge, majestic, beautiful. Along the coast, they're shrouded in mist and fog. Don't be fooled into paying money to see them. They're EVERYWHERE.
But, if you must give up your hard-earned dough, I don't suppose there's any harm to taking the kids to Trees of Mystery, in Klamath, California. We arrived just as they were closing, so we didn't actually see the Trees. But we did get a good look at the enormous statues of Paul Bunyan and Babe the Blue Ox in the Trees of Mystery parking lot (for free).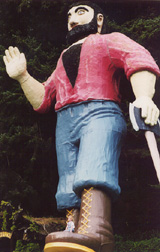 A sign provides numbers for factoid-craving geeks like me. The Paul Bunyan statue weighs 30,000 lbs; the concrete base weighs 800,000 lbs; Paul is 49 feet 2 inches tall (just a little shorter than Dixie the Dinosaur); his waist is 52 feet around, his axe is 24 feet long, his chest, 66 feet around, and his boots, 10 feet tall. It was designed by Ann Cooper and built by Ward Berg.
The thing is, the whole design seemed pretty crude (he has no knees and don't you think his proportions are a little weird?). But it was his eyes... those eyes... those possessed eyes... that really creeped me out...

Standing next to Paul was a statue of Babe the Blue Ox:

These are his stats (in case you're wondering): 35 feet from horn tips to ground; weight: 30,000 lbs.
The parking lot also gives you access to the gift shop, which was open way past the time you could see the trees. (Why see trees when you can buy stuff?). Here are postcard pictures: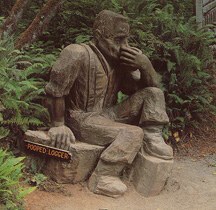 This is sculpture called "Pooped Logger," chain-sawed out of a redwood by Kenyon R. Kaiser.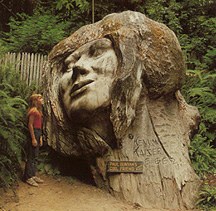 This is Paul Bunyan's girlfriend ("Logger's Dream"), also by Mr. Kaiser. Postcard photos by Bob von Normann, FVN, Inc., Redcrest, CA 95569.
The postcards and big statues were enough for us. We didn't plan on going back.
Site (parking lot) visited, August, 1998.
For the Trees of Mystery homepage, click here.
Back to Kitsch Tour U.S.A.
Back to Science Fiction Art