Back to Science Fiction/Fantasy Art
REVIEW OF AND REFERENCES IN
AUSTIN POWERS 2:
THE SPY WHO SHAGGED ME
Just enjoy yourselves
I spent a bunch of time trying to research all the references in Austin Powers (see below), so my review is short. I don't have much to say about this film except:
It's a lot like the first one. It's funny. If you only see one movie this summer, see Austin Powers.
Scoring:
Crudeness: 10/10. This is a very crude movie.
Style: 6/10 (The overall look of the film is spot-on. There's just nothing particularly novel here.)
Substance: 4/10 (Did you expect any?)
Humor and Charm: 8.5/10
Overall Coolness: 8/10
Now, having conveniently and quickly dispensed with the review the way Liz Hurley was flushed so quickly, I can get to the...
REFERENCES IN
AUSTIN POWERS 2: THE SPY WHO SHAGGED ME
(WARNING: THIS SECTION IS FILLED WITH SPOILERS, BUT REALLY WOULDN'T MAKE ANY SENSE IF YOU HAVEN'T SEEN THE MOVIE ANYWAY. SO GO SEE IT ALREADY AND THEN COME BACK AND READ THIS. ALSO, THERE'S SOME
ROUGH LANGUAGE AHEAD
BUT YOU'D ALREADY KNOW THAT IF YOU SAW THE FLICK.)
There's a thin line between tributes, references and rip-offs, but I'm not going there, girlfriend. Also, these are what I could catch from two viewings, and I admittedly haven't seen every film ever made... So if I missed any, or got any citations wrong, let me know. Some of these might be obvious, but, oh well. We're trying to be completists here.
Title: An obvious riff on the James Bond movie The Spy Who Loved Me, which like The Spy Who Shagged Me also came out in the same year as a Star Wars movie (1977). In Singapore, censors temporarily forced a title change to The Spy Who Shioked Me - "Shioked" means "treated nicely." Malaysian censors toyed with altering the title to The Spy Who ... Me before banning the film altogether. In the 6/98 script draft, alternative titles are given: Austin Powers 2: The Wrath of Khan and Austinpussy (Cf. Octopussy).
Opening song: The film begins with a theme song about Dr. Evil, by They Might Be Giants, with female guest vocalist Robin "Goldie" Goldwasser, who does an uncanning imitation of Shirley Bassey singing the theme from Goldfinger.
Opening scroll: The prologue scrolls up like the intro to a Star Wars film. Of course, Star Wars lifted this idea from old Saturday afternoon serials like Flash Gordon. (Opening scroll, followed by shot of stars panning down to a spaceship orbiting a planet, gets big laugh from audience)
"Houston, we have a problem." A space shuttle astronaut says this as he sees Dr. Evil's Bob's Big Boy spaceship pass by. This is the Hollywood version of the understatement "Houston, we've had a problem," from Jim Lovell on the 1970 Apollo 13 flight. The music that plays during this scene is 'The Space March' from You Only Live Twice- that being the music that plays when Blofeld's rocket 'swallows' the US spaceship, at the beginning of the film.
Space egg: Dr. Evil leaves his spaceship via an egg-shaped module ejected from the "seat" portion of the ship. Possibly a reference to Robin Williams' Mork (Mork and Mindy), who arrived on earth in a space egg. The original poster (and video cover) for Alien (1979) ("In space no one can hear you scream...") prominently featured a space egg. Interestingly, singer Liz Phair had a 1998 album called whitechocolatespaceegg.
In Like Flint: Movie which Austin watches in the honeymoon suite. 1967 spy flick with James Coburn as Derek Flint. Sequel to Our Man Flint (1965). The bleeping noise that Austin Powers' Shaguar makes when he receives an email from Basil Exposition is identical to the noise that the red phone to the President makes in Our Man Flint.
Remote control: Austin discovers that his new bride Vanessa is a fembot who responds to the TV remote control, moving backwards when he presses "Rewind" and even automatically switching to a second audio program. Remote control robots are a staple of science fiction (see, for example, Gigantor (1966), whose "power is at your command.") In 1976, John Schuck was a robot in the short-lived TV show Holmes and Yo-Yo (a show recently chosen by TV Guide as one of the worst fifty shows of all time!). Schuck would do backflips whenever an automatic garage door control was worked. Spock was also remotely controlled after having his brain stolen in a "classic" Star Trek episode ("Spock's Brain").
Fembot: Probably a reference to Bionic Woman. After the show was cancelled by ABC, NBC picked it up. In an effort to boost sagging ratings, NBC aired episodes of questionable taste like "Fembots in Las Vegas" (Parts I and II). That story featured female robots in sequin bikinis bouncing up and down on stage - with Jamie Sommers obliged to join in. (Fembots had previously appeared in the BW episode "Kill Oscar".)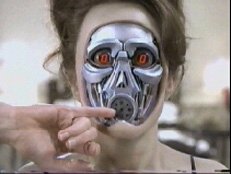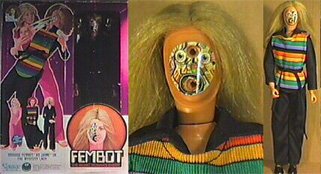 Vanessa and Jamie Sommers Fembots.
Fembots are also probably inspired by the female robots rigged to explode in 1966 spoof Dr. Goldfoot and the Girl Bombs. The removal of faceplates to reveal that a person is really a robot probably comes from Michael Crichton's Westworld (1973) and its awful sequel Futureworld (1976). It was also previously done on TV's Get Smart! For more information about the cinematic history of Fembots, click here.
Basil Exposition: This name is sort of a joke, too. "Exposition" is a writing term meaning, basically, blathering on about something. Often in fiction, when the hero is at a crossroads and doesn't know what to do, a quirky minor character appears to "exposit", telling our hero exactly what he needs to know, and then disappearing off-stage, never to be seen again. Which exactly describes Exposition's role. I don't think the "Basil" part of the name is specifically a joke, but it just might be something that sounded appropriately British and stuffy.
Discretely placed typography: When he's cavorting through the lobby naked, the bit where the letters from the credits cover his naughty bits is lifted from the opening sequence of Barbarella (1967) - what some consider Jane Fonda's finest performance. The same sort of discrete nudity was featured endlessly on the British Benny Hill Show. As site visitor Astro wrote, "The British could never get enough of this type of humor, that's why Myers mocks it so much! I even remember British comedians Hale and Pace doing the exact same thing a few years back."
Casino Royale: As Austin cavorts naked in the hotel, a sign indicates "Casino Royale." This was a James Bond novel by Ian Fleming, made into a (rather muddled) spy spoof way back in 1967.
Synchronized Swimming: References to: 1) All of those Esther Williams/Busby Berkeley movies with spectacular musical numbers. A lot of them were shot either underwater and from above, creating a kaleidoscope pattern. 2) Martin Short and Harry Shearer's portrayal of inept male Olympic synchronized swimmers, trained by Christopher Guest on SNL. "You, You, I know You!" (with pointing).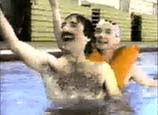 3) Also reminiscent of Miss Piggy during The Great Muppet Movie Caper and History of the World, Part I.
Jerry Springer: Talk show known for (perhaps pre-meditated) violence among guests. Scott Evil and his dad appear on a show entitled "My father is evil and wants to take over the world!" Dr. Evil dukes it out with Nazis and a KKK member, even stealing his pointy white hat. Dr. Evil throws a chair, a reference to Geraldo Rivera. (Another big laugh)
In the 6/98 script draft, on Jerry Springer Dr. Evil gives the following speech (which didn't make it into the final version): "I have a vestigial tail. It's more of a nub, really. The spine just goes on a little longer than it should. Also, I've dabbled. I mean, perform fellatio once and you're a poet, twice and you're a homosexual. I remember once I was being fisted by Sebastian Cabot- but here's where the story gets interesting. He was lactose-intolerant. He could eat red meat all night long, but one sip of milk and it was gastric hell. And I remember we were caught in fragrance delicto by Henry Kissinger, and you can imagine my humiliation at having Hank hear me say, "Mr. French, no teeth." One of my greatest disappointments is that I never became a song and dance man. I could have been a quadruple threat, kind of like a despotic Ken Barry. Dancer, singer, actor, and I would possess nuclear weapons, the latter being the most threatening of the four. I once sat on a bus and tried to will myself a menstrual cycle. All I ended up with was a sense of failure and a mild neuralgia in my incisor teeth and perhaps a grudging respect for the weaker sex. I love toe cleavage. For the most part I distrust dogs. I slept in a horse once. It was quite roomy. On second thought, it was the Ritz. I named my left testicle 'piss' and my right testicle 'vinegar'. I wrote "It's Raining Men", or so the Christmas babies told me. Oh yes, I also made a Marzipan voodoo effigy of The Fonz while I was in coma after smoking some Peruvian prayer hash, but who at the end of the day can honestly say they haven't done that?"
I put the "grr" in "swinger": The format "who put the BLAH in BLAH BLAH BLAH" has been around for decades. The earliest I know of is the Cowardly Lion saying "Who put the 'ape' in 'apricot'?" during his King of the Forest song in Wizard of Oz (1939). My favorite is from King of the Hill: "Who put the 'Sou' in 'Souphanousinphone'?" Another example is Barry Mann's 1961 hit "Who Put the Bomp (In the Bomp, Bomp, Bomp)," which asks these musical questions: "Who put the bomp / In the bomp bah bomp bah bomp? / Who put the ram / In the rama lama ding dong? / Who put the bop / In the bop shoo bop shoo bop? / Who put the dip / In the dip da dip da dip?"
Union Jack-decorated Jaguar: British car, British flag. The nameplate says "Shaguar." Decorating with flags was very big in sixties. Example: the Rolling Stones sang in "Get Off Of My Cloud": "Then in flies a guy, he's all dressed up just like a Union Jack." Pete Townshend of the Who also wore a Union Jack jacket around 1965: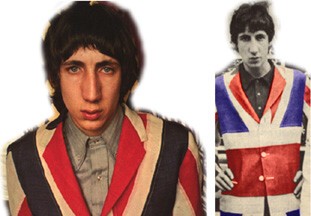 Another possible Who reference: Austin Powers' costume, with its frilly lace resembles another get-up Townshend wore in the mid-sixties: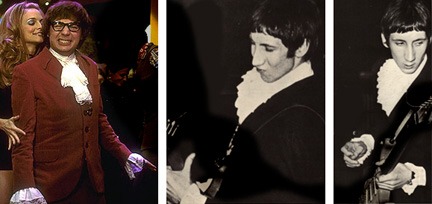 (Note also that the Who's "My Generation" is played during AP2.)
Another British rocker was named Screaming Lord Sutch; he used to travel around in a Rolls Royce which was painted with a large Union Jack. On an album cover, Lord Sutch is dressed in the same lace outfit Austin Powers wore.
Later, in 1969, James Bond, undercover as Sir Hilary Bray, also wore a lacey outfit in On Her Majesty's Secret Service.
While we're on the subject of fashion: Austin Powers' eight-buttoned orange shirt is inspired by the "uniforms" Michael Nesmith, Peter Tork, Micky Dolenz and Davy Jones wore on The Monkees, a television show from 1966-68: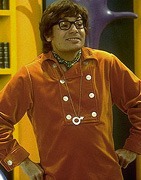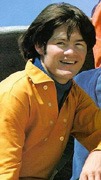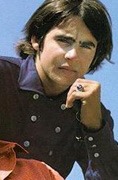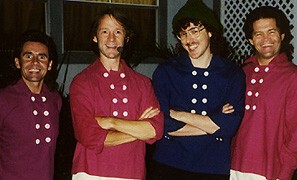 Austin & Monkees then and now (with Weird Al)
Note also that the Monkees' "I'm a Believer" is played on the AP2 soundtrack.
American flag-decorated Corvette Stingray: American car, American flag. Possible reference to Peter Fonda's American-flag-decorated motorcycle in Easy Rider.
"American Woman": Played for Felicity Shagwell's cinematic entrance. A 1970 song by the Guess Who, misappropriated as a patriot anthem (as Ronald Reagan did to Bruce Springsteen's "Born in the U.S.A."). Some of the less-than-pro-American lyrics, sung by the Guess Who's singer Canadian Burton Cummings, go like this:
American woman, stay away from me, American woman, mama let me be
Don't come here hanging around my door, I don't want to see your face no more
I got more important things to do than spend my time growin' old with you
Now woman, I said stay away, American woman, listen what I say
...
American woman, I said get way, American woman, listen what I say
Don't come here hanging around my door, Don't want to see your face no more
I don't need your war machines, I don't need your ghetto scenes
Colored lights can hypnotize, Sparkle someone else's eyes
Now woman, get away from me, American woman, mama let me be
Go, gotta get away, gotta get away, now go go go
I'm gonna leave you, woman, Gotta leave you, woman
Bye bye, bye bye, Bye bye, bye bye
You're no good for me, I'm no good for you
Gonna look at you right in the eye, Tell you what I'm gonna do
You know I'm gonna leave, You know I'm gonna go...
Foto shoot: References to Blow-Up, Tony the Tiger, ring-tailed lemurs, and probably the killer rabbit in Monty Python and the Holy Grail.
Ivana Humpalot, Robin Swallows (Spits), and Felicity Shagwell: Suggestive female names are a staple of spy flicks: Pussy Galore (Goldfinger), Kissy Suzuki (You Only Live Twice), Plenty O'Toole (Diamonds Are Forever), Mary Goodnight (Man with the Golden Gun), Agent XXX (aka Anya Amasova, The Spy Who Loved Me), Holly Goodhead (Moonraker), Xenia Onatopp (GoldenEye), plus Miss Goodthighs from Casino Royale, and, of course, Alotta Fagina from the first AP movie.
Chess: A reference to the original The Thomas Crown Affair.
This is how we drink in Belgium: Dr. Evil drinks a capuccino at his headquarters (cleverly disguised as a Starbuck's). He says this when he gets foam (a la a milk mustache) on his nose and upper lip. Reference to John Travolta's speech in Pulp Fiction about eating fries and a quarter-pounder (Royale with cheese) in Amsterdam and Paris.
Frau Farbissina: reminiscent of another Frau, played by Cloris Leachman in Young Frankenstein (1974). Frau Farbissina's name comes from the Yiddish word "farbissen," which is usually used in conjunction with "punim," meaning "face." "Farbissen punim" describes a "dour, pinched, or forbidding face."
Send in the clone: Frau Farbissina (Mindy Sterling) says this to announce the entrance of Dr. Evil's small clone, Mini-Me (Verne Troyer). Reference to "Send in the Clowns," song from Broadway musical A Little Night Music, hit for Judy Collins in both 1975 and 1977. The quintessentially cliche'd science fiction joke. To show you just how old and lame this joke is, here it is from (no later than) 1978: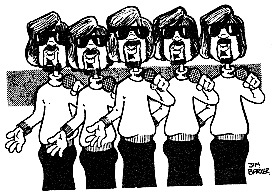 caption: "And now, me and the boys would like to sing our latest number: Send in the Clones..."
(Jim Barker, in International Science Fiction Yearbook, ed. Colin Lester, Quick Fox, New York, 1978)
Mini-me: Reference to, among other things, Island of Dr. Moreau: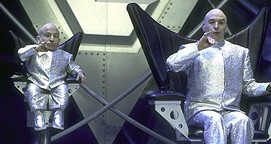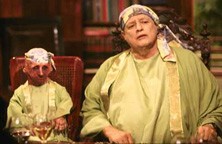 The Marlon Brando character was previously spoofed, of course, in South Park. (Does anyone have a picture?) Mini-me also seems a bit like the bald, silent, short butler who hangs with No. 6 in The Prisoner. Cf., Hervé Villechaize as Nick Nack in The Man with the Golden Gun and Tattoo in Fantasy Island. He also resembles the killer babies in the It's Alive trilogy.
Seeing Dr. Evil and Mini-Me together also reminds of Godzilla and the Son of Godzilla (Minya), see here in a Japanese movie poster: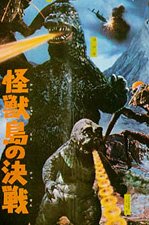 Also, in the Rankin-Bass Christmas special "The Year Without a Santa Claus" (1974), the evil duo of Snow Miser and Heat Miser each have a little chorus of creatures tap-dancing and back-up singing for them; each chorus member looks like a miniature version of Snow Miser or Heat Miser.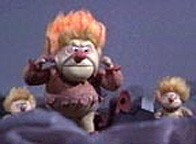 Mojo: Dr. Evil describes this as Austin's life force, his essence, his libido, his "Right Stuff," what the French call a certain I-don't-know-what. Most famous reference to "Mojo" is probably the Jim Morrison's anagram of his name "Mr. Mojo Risin'" in the song "L.A. Woman" (1970). This usage is really, well, wrong. Cecil Adams, of The Straight Dope, the Duke of Factoids, notes that a mojo is "not what you think, wise guy. According to my Suppelement to the Oxford English Dictionary ... mojo has two meanings: (1) a narcotic, especially morphine; or (2) 'magic, the art of casting spells, [or] a charm or amulet used in such spells.' ... In blues songs mojo almost always refers to meaning number 2. for example, there's 'Mojo Blues,' recorded by Charley Lincoln in 1927: Oh the mojo blues mama, crawling across the floor / Some hard-luck rascale done told me I ain't here no more / ... Aw she went to a hoodoo, she went there all alone / Because every time I leave her, I have to hurry back home." [Cecil Adams, More of the Straight Dope, Ballantine Books, 1988, p. 257-9.]
Time machine: Dr. Evil's time machine bears a striking resemblance to that used in The Time Tunnel TV show by Robert Colbert and James Darren (now newly famous as a lounge singer in DS9):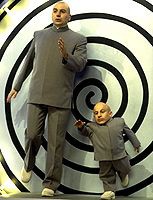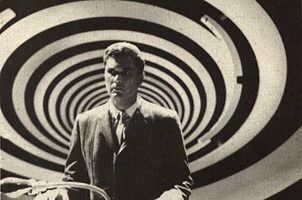 Zip It: Dr. Evil makes a reference to 1980 hit "Whip It" by robot rock group Devo from Akron, Ohio.
Secret Base in Hollowed-Out Volcano: Reference to SPECTRE's secret base in 1967 film You Only Live Twice. Captain Nemo also had a secret base in a volcanic island (20,000 Leagues Under the Sea, 1954; and Mysterious Island, 1961). The Thunderbirds (1966) had a secret base on an island, too.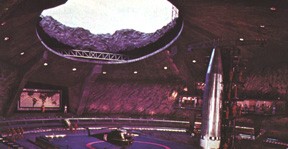 You Only Live Twice
Uptight English Colonel in Cryo Chamber: Doesn't he remind you of the uptight British military officer played by Graham Chapman in those Monty Python skits? Or the uptight naval doctor Harry Sullivan (Ian Marter) from Dr. Who? Or perhaps all British officers are like this.
White Meat: Fat Bastard threatens to eat Mini-Me, calling him a little "baby" and singing the Chili's Baby Back ribs jingo. He also calls him "the other other white meat" and "what's for dinner," references to the pork and beef ads.
Interestingly, this reference harks back to a satirical essay by Jonathan Swift. He suggested that the poor Irish could sell their babies to the rich English. That way the Irish could have more money and less kids, and the English could eat what Swift heard is something along the lines of tender white meat (like veal?). The English were doing just about everything else to make the Irish suffer, so why not eat their children?
Austin's New VW Beetle: Multiple reference: to the DeLorean used as a time machine in the Back to the Future movies; to the VW Beetle, which was the perfect anti-establishment car of the sixties; Peter Max artwork (see Yellow Submarine, 1968); and to various psychedelically painted sixties vehicles like the bus in The Partridge Family or John Lennon's Rolls Royce: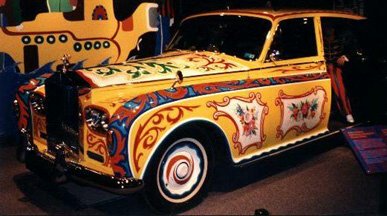 Speaking of cars, Austin Powers' name may be at least partially inspired by two British motorcars, the "Austin" Healy and the "Aston" Martin. Aston Martins, very expensive high performance cars, have appeared in many Bond films, most famously the Aston Martin DB5 in Goldfinger and Thunderball. Other Aston Martins in JB films include: the DBS in On Her Majesty's Secret Service, the V8 Vantage in The Living Daylights, and the new DB5 in GoldenEye. This is before James Bond switched to BMW (but a Brit driving a German car? Sheesh!). Austin Healy's were classic British roadsters, of the MG and Triumph ilk, during the 50's and 60's.
The backwards-going car: The poor driving is an old joke (the driver starts driving, but the car goes in reverse). I recently saw William Shatner do this schtick in the episode "A Piece of the Action" from old Star Trek; Woody Allen did it in Annie Hall (1977), and it's also done in The Gods Must Be Crazy, but I suspect the joke is much, much older than that.
Carlo sent in this note: "In regard to your statement that the "old joke" of bad drivers and reverse running cars must be older, that is true. In 1900-1920 especially, when a car was crank-started, it was possible to cause the pistons to fire in reverse. It is still possible today with 2-cycle motorcycles. I remember as a child, my father had an old motorcycle and it started up and went in reverse. The most recent time I have seen this in an old black and white I Love Lucy episode when the Mertzes were going to ride back from California on an old Motorcycle and Fred starts in reverse and crashes it."
Austin Powers painting: In the apartment in the sixties, there's a silkscreen of Austin Powers imitating the style of Andy Warhol's multi-image pop art masterpieces of Marilyn Monroe, Elvis, himself, etc.
Robin Swallows: When Austin has a knife thrown at him, he grabs Swallows (an agent for Dr. Evil) as a shield so she takes it in the back. Then comes the machine gun fire, the bazooka and the force of the impact of falling out a window. This is a reference to the Bond flick Thunderball. In the 6/98 script draft, Austin keeps Robin's body in the backseat of his car to use as a shield. Austin seeing the reflection of the assassin in Robin's eye comes from Goldfinger.
Baby carriage: Mini-me in the baby carriage. Reference to Baby Herman in Roger Rabbit?
Dr. Evil's huge bust of himself on his island base: Obviously a reference to Mount Rushmore (which other villains give a, well, facelift in Superman II). Ferdinand Marcos also had a big bust made of himself on his island dictatorship of the Philippines (located by the side of the Marcos Highway from Manila to Baguio).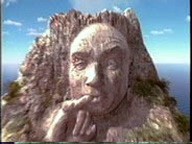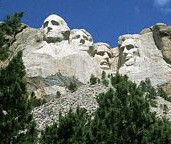 Dr. Evil, Ferdinand, George, Tom, Teddy and Abe
Let's Get It On: There's another reference to black culture (e.g., the Marvin Gaye song) when Dr. Evil says "one for me, one for my homies" when he takes a drink from his malt liquor and then dumps some out before gettin' it on with the Frau. That's a reference to a lot of gangster rap songs/movies.
Carnaby Street: Austin and Felicity Shagwell cavort here, the hotspot of Mod fashion in the 60's. There is a reference to the street-crossing on the cover of Abbey Road - and the store at the end of the crossing is called "Pauls" (McCartney?). There's another store on the street called "Lady Jane," possibly a reference to the Rolling Stone song.
Damn Dirty Apes: Felicity asks Austin what the future holds, and he says, among other things, that the world is ruled by Damn Dirty Apes. A reference to The Planet of the Apes: Charlton Heston (the human whom the apes think is mute) escapes, but is recaptured, snarling, "Take your stinkin' paws off me, you damn dirty ape."
Photography: The darkroom scene in which Austin enlarges pictures to discover how Fat Bastard stole his mojo is reminiscent of the scene in Blow-Up where the photographer discovers evidence for a murder (this scene may also be a reference to BladeRunner). The closing credits foto shoot in the first AP movie is also straight from Blow-Up.
Painting: Hanging on a wall is the 1967 LOVE painting by Robert Indiana:

Sexy Man: Fat Bastard sings "Sexy man, eatin' like a sexy man can" to the tune of the theme from the crudely animated Spider-Man TV show.
Death Star: Dr. Evil places a giant "laser" on the moon, turning it into what he calls a "Death Star." Scott calls him "Darth" and says this is a "rip-off" of Star Wars. Because a Cambridge scientist named Parsons designed the laser, Dr. Evil calls the thing his "Alan Parsons Project," which Scott also spots as the name of a progressive rock band in 1982 (hits include "Games People Play", "Time", "Eye in the Sky", and "Don't Answer Me"). Scott suggests that Dr. Evil's scheme might alternately be called Operation Wang Chung ("Dance Hall Days", "Everybody Have Fun Tonight", "Let's Go!") or Operation Bananarama ("Cruel Summer", "Venus").
Oompa-Loompa: Dr. Evil asks No. 2 if Mini-Me is giving off too much of a creepy Oompa-Loompa vibe. Reference to weird short beings with orange faces who help out in Willy Wonka and the Chocolate Factory.
He's a biter: Possibly a reference to Beethoven, which I haven't seen. Has anyone out there seen it and know for sure? Let me know. Also, in a non-movie usage, "He's a biter" is said by pre-school teachers to refer to kids who bite because they have trouble expressing their feelings verbally - an apt description of Mini-Me.
"He's a biter" may also be in reference to Ace Ventura 2. In the scene where Ace goes against the village cannibal. The cannibal bites Ace and then he's says "Oh so you're a biter. Hey, HE'S A BITER."
Giant laser: Science fiction and spy movies are filled with giant lasers. There's a giant laser in space in Diamonds Are Forever (1971). Here's the one from The Man with the Golden Gun (1974):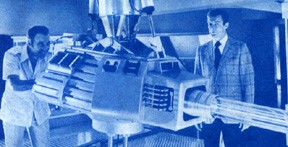 Basketball scene: Multiple references here. When Dr. Evil is hitting Young No. 2 in the face with the inflated world globe, he begins taunting him, saying "Are you gonna cry? Gonna squirt a few...?" That was taken from The Great Santini, the 1980 drama in which Robert Duvall was nominated for Best Actor. He's a maverick fighter pilot taunting his son (Miles O'Keefe) with a basketball to the face. The world as ball/balloon/plaything idea is reminiscent of Charlie Chaplin's The Great Dictator (1940):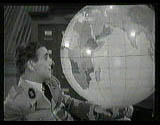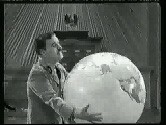 This scene also seems to be a lift from the movie Hook, in which Rufio repeatedly taunts Peter Banning, played by Robin Williams.

Jerry Maguire: After demanding 100 billion dollars from the President of the U.S. (Tim Robbins), Dr. Evil says "Show me the money." Scott also nails him on this, saying that Jerry Maguire won't be released for 30 years. Another Jerry Maguire reference is when Dr. Evil says to Mini-Me: "You complete me." Austin also tells the President "You had me from hello."
Independence Day: Dr. Evil shows the footage of the White House being blown up, telling the President his new laser would be a lot like that. The inspiration for ID4 comes from an earlier and equally bad science fiction movie called Earth vs. the Flying Saucers (1956), in which every other Washington landmark is destroyed by flying saucers. Mars Attacks! also makes a reference to this movie when a saucer drops the Washington Monument on some Boy Scouts.
Talk to the hand: Dr. Evil tells the President to talk to his hand because his face don't want to hear it. This is from the Joan Rivers hosted the Late Show (1986-1987) - she'd thrust her paw into a guest's face and shout "Talk to the hand!!" May also have been used in The Nanny (1993) starring Fran Dreshner or The Beautician and the Beast (1997).
Don't go there, girlfriend: Dr. Evil also says this to the Prez. Like the previous phrase, may be a part of Black English that gained popularity via Jerry Springer and Rikki Lake. Does anyone know for sure what this is from? Let me know.
Snake/Mongoose: Dr. Evil says "Austin Powers... he's the snake to my mongoose, or the mongoose to my snake. Either way it's bad. I don't know animals." Reference to Rikki-Tikki-Tavi. Also a reference to the Roger Moore James Bond film, Live and Let Die. He kills a snake in a bath and when the Bond girl goes in the bathroom she comes out screaming. He then says the line "Oh yes, I forgot to tell you, never go in there without a mongoose."
"One of Us": Dr. Evil and Mini-Me play a piano duet of this Joan Osbourne song, with Dr. Evil on vocals. Evil is singing this back in the 60's and claiming he wrote it, even though he doesn't remember the words. An appropriate song for him, as he makes himself out to be a god.
Beach landing: When Felicity and Austin come out of the sea, there both wearing similar outfits, like that worn by Ursula Andress in Dr. No.
Gerbil: In a visual pun, Felicity appears to pull a gerbil from Austin's rear; a reference to Richard Gere, who says it never happened.
"Just the Two of Us": Dr. Evil sings a rap version of this song, based on Will Smith's remake of the original 1981 song by Grover Washington, Jr. and Bill Withers. Perhaps it would have been better renamed "Just the Two of Me."
Electric Tricycle: Evil and Mini-Me momentarily ride an electric tricycle in the volcano base. Possibly a reference to the bicycles in The Prisoner.
Spaceship shaped like a male organ: Dr. Evil has a spaceship shaped like a shaft with two round balls attached. There was another male organ-shaped ship in the 1974 X-rated parody called Flesh Gordon.
Read a radar once and they never let you stop: Radar-reader Johnson, played by Clint Howard, played a similar role as a Houston Control tech in his brother Ron's Apollo 13: He's the one that says, "It's, it's reading a quadruple failure -- that can't happen! It's, it's got to be instrumentation." He was also radar-reader Ritter in the first AP flick.
Moon Unit Zappa: Dr. Evil divides his Moon unit into two groups, Alpha and Zappa. "Moon Unit Alpha" may be a reference to Moonbase Alpha from the 1975-1977 TV show Space:19999. Zappa is, of course, Frank Zappa's kid.
Moonbase: Dr. Evil's moonbase looks like any other moonbase from the sixties and seventies, with glass and metal tubing a la I. M. Pei. Here's a shot of folks on the moon in 1972's Slaughter House-Five: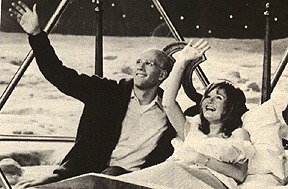 Uncontrollable chairs: Dr. Evil spins helplessly in his chair, calling out "The power of Christ compels you!" A reference to The Exorcist. When Mini-Me shoots upward in his chair, it reminded me of the barber chairs in The Rabbit of Seville.
Apollo Flight: Hitching a ride on Apollo 11 are Felicity, Austin, and a third astronaut (apparently there to pilot the Command Module, intended to retrieve Felicity and Austin after they return from the moon's surface). Apollo 11 is, of course, the flight that took Armstrong and Aldrin to the moon on July 20, 1969. The face in the hatch as it closes is a reference to Guenter Wendt, who closed the hatch in every Apollo flight - he is portrayed by Endre Hules in Apollo 13. Also, Austin screams when the Saturn V rocket accelerates - just like the astronauts did in Apollo 13. Once on the moon, Austin says, "The swinger has landed," a spin of the Apollo 11 quotation, "The Eagle had landed," the Eagle being the lunar module.
Lunar Disposal Unit: Austin expelling Mini-Me through the airlock is an obvious spoof of both Moonraker and Alien (1979), the latter itself a lift from the 1959 film It! The Terror from Beyond Space. Also probably a reference to the Zero-G toilet in 2001. When Mini-Me is shot into space, he spins head over heels like Gary Lockwood's body in 2001. When Dr. Evil's penis-shaped rocket picks up Mini-me in space, this is another take off of You Only Live Twice (1967). Interestingly, the idea of one-spaceship-swallows-another had earlier been used in the Lost in Space episode "The Derelict" (1965). It's also a possible reference to the aborted attempt to pick up Lockwood's body in 2001.
Austin, I am your father: Reference to The Empire Strikes Back. Dumb joke. C'mon, Mike Myers, you can do better than that.
Sure, Austin from ten minutes from now: The self-revential banter between the two Austins recalls that between the future and present Bill and Teds in those two movies.
Gun: Austin's automatic looks a lot like a Walther PPK used by James Bond. It jams after he shoots the guards, just as Bond's jammed when he was shooting at Jaws in The Spy Who Love Me.
Ri-goddam-diculous: Dr. Evil utters this to the two Austins. This odd phraseology comes from a speech that John Wayne once gave to a group of ROTC cadets at a graduation ceremony. Wayne was rather intoxicated and slurred his way through that rambling speech.
The drunken John Wayne speech can be found on a CD collection of celebrity bloopers called Celebrities At Their Worst. Portions of this CD, including Wayne's drunken speech, have been played on Howard Stern's radio show.
Glass-pounding: Austin pounding on the glass between him and the (dead) Felicity is reminiscent of the famous scene in The Graduate wherein Benjamin Braddock (Dustin Hoffman) pounds on the glass at the church - a scene previously spoofed by Mike Myers in Wayne's World 2.
Mojo mid-air: When Dr. Evil lobs Austin's mojo into the air on the moon base, it resembles the bone/space station in 2001.

You had it all along: When Austin is told by Felicity that he never really lost his mojo, it sounded a lot like the resolution from The Wizard of Oz (1939).
"I can't stop eating. I eat because I'm unhappy and I'm unhappy because I eat." Fat Bastard says this, and boy does it have a familiar ring to it. I was recently sent an email that this comes from "Le Petit Prince (The Little Prince)" who "meets a tippler, a drunkard, who drinks to forget. "Forget what?" asks the prince. "I drink to forget that I am ashamed." "Ashamed of what?" he asks. "Ashamed that I drink." Saddened, the boy says to himself: "These grown-ups are certainly very very odd."" Also, Garfield the Cat once thought: "I'm depressed. I'm depressed because I eat too much, and I eat too much because I'm depressed." / "It's a vicious cycle........... that's taken years to perfect."
Many, Many, Many thanks to the following people for additions and corrections: Marjorie Kase, Jonathan Harvey, Jeremy Sullivan, Jim Terman, Astro, Mina-Clare Moseley, Purple Lemon, Joel O'Connor, Noah J. Arceneaux, Dennis, Colin Maginnis, Rosemarie Williams, CozmikG, Plack Slayer, Richard Murray, Jamie Zawinski, Sasha Taylor, Dennis Willis, Bill Koff, Hyphenate, Lisa Edwards, Alex Finch, Adam Grant, Matthew Akromis, Cherry CSNE, Alicia Solomon, Rob Mehmed, Susana Kelly, Gary Sanders, Krissie Hoskin, Jaime Moraga, Steven Sharp, and CAmato2377.

Did I miss anything? If you can think of any other references in Austin Powers 2, let me know. (But please DON'T send me any video clips because we have a slow modem.)
---
From: Geoff George:
Your page is seriously the greatest AP page on earth. I like a lot. I'll link your page but I would also appreciate it if you linked my site also.
Geoff George
Smashing, Baby!
http://www.angelfire.com/yt/austinpowers/ (Big, cool site with a new Mike Myers interview, fotos, toys, mistakes - all sorts of neat-o stuff)
BTW - I thought, except for the first five minutes, that the third Austin Powers movie sucked and isn't worth the time to deconstruct. What a load of wasted opportunities. - FW
---
The Spy Who Shagged Me Ring member site
---
---
Back to Science Fiction/Fantasy Art
Back to Kitsch Tour U.S.A.
Back to Official Frank Wu Homepage