GALLERY OF FRANK R. PAUL's SCIENCE FICTION ARTWORK
artwork (c) Frank R. Paul estate
Back cover Art by Frank R. Paul for November 1939, Fantastic Adventure Magazine, "Life on Saturn." Tempera on paper, 20 in x 14.5 in.
Check out the baby Saturnians: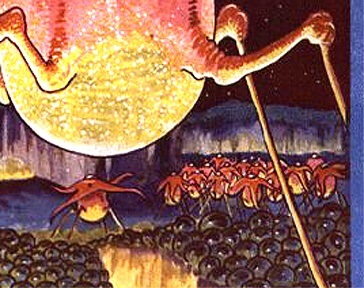 From the issue: "Life on Saturn would evolve along insect lines, with light body, capable of walking spider-like across its swampy, unstable surface."
This piece, along with those of a number of diverse and interesting SF artists, was on view at the Possible Futures SF art exhibit of the Jane and Howard Frank collection of SF art, at University of Maryland, Jan. 27 - March 4. The show travels to the Society of Illustrators in New York (June 28 - July 29), to the Bowling Green (Oh.) Fine Arts Center (Aug. 29 - Sept. 23), and then the Widener University Art Collection & Gallery (Oct. 21 - Dec. 16, 2000). The exhibit catalog was Possible Futures, ed. Dorit Yaron, Chroma Graphics, 2000.
In an essay in the catalog, Greg Metcalf draws a comparison between science fiction art and western movies and themes. "Like [western film director John] Ford's surreal representation of the West, this barren land [in outer space] must be tamed because we are Americans. The only difference is that these pioneers wear space suits instead of cowboy hats and they look out over the unrelieved night of science fiction rather than the unforgiving sunlight of the pulp western. And as Ford demonstrated, Monument Valley can serve as any location. Frank R. Paul's Life on Saturn (1939) depicts a space-suited explorer facing a similar symbolically American landscape, even though he is much further from Arizona." (p. 45).
In the same way Paul developed his "Man from Mars" in multiple images, so the Saturnians are developed more on the back cover of Amazing Stories, August 1941, in a piece called "Crater City on Saturn":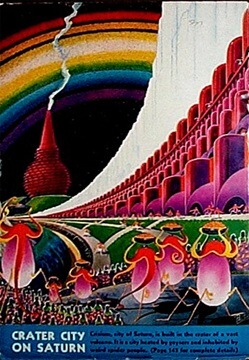 artwork (c) Frank R. Paul estate
Back to Frank R. Paul Gallery Main Page
---
Back to Frank Wu's Science Fiction/Fantasy Art
Back to Kitsch Tour U.S.A.
Back to Official Frank Wu Homepage