GALLERY OF FRANK R. PAUL's SCIENCE FICTION ARTWORK
artwork (c) Frank R. Paul estate
Cover art by Frank R. Paul for Winter 1933 Wonder Stories Quarterly, illustrating "Interplanetary Bridges" by Ludwig Anton. The story, translated by Konrad Schmidt from German, describes the colonization of Venus.
This Paul cover was apparently the inspiration for an LP cover for a rock band (back when music came on LP's):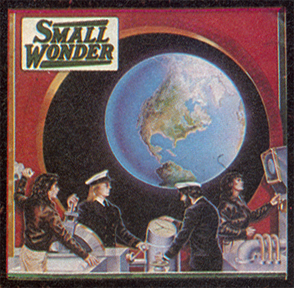 I am amused that the album cover did not correct Paul's mistake of not showing cloud patterns on the earth. This was a common mistake; even the Bugs Bunny cartoons of the forties and fifties show the earth looking just like a globe sitting on the artist's desk. In fact, no science fiction artist predicted large weather formations before they were discovered by the space flights of the sixties.
Back to Frank R. Paul Gallery Main Page
---
Back to Frank Wu's Science Fiction/Fantasy Art
Back to Kitsch Tour U.S.A.
Back to Official Frank Wu Homepage