GALLERY OF FRANK R. PAUL's SCIENCE FICTION ARTWORK
artwork (c) Frank R. Paul estate
Cover art by Frank R. Paul for Jan. 1935 Wonder Stories, illustrating "One Way Tunnel" by David H. Keller, M.D.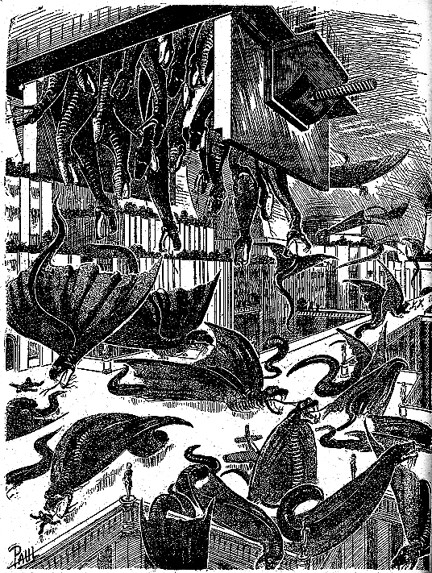 artwork (c) Frank R. Paul estate
A story in which a future earth is overrun by giant winged snakes, the last cities covered with glass domes to protect themselves from these marauders...
In this issue, reader Donovan J. Foster of Hereford, England, got into a rather spirited discussion about Paul's illustrations, or rather the reproduction thereof. He refers to a letter by a Mr. Wollheim, printed in the September 1934 issue of Wonder Stories:
"I will attempt to deal with the various points as Mr. Wollheim raises them.
"Firstly, the illustrations, beginning with the cover design. The criticism of the latter is an exaggeration. What it boils down to is that more extra-terrestrial scenes and beings should be depicted on the cover. This has nothing to do with Mr. Paul's ability as a cover designer.
"I will here include the inner illustrations. The trouble about these arises from the fact that the present paper used in Wonder Stories does not appear to take the ink very well. This results in Mr. paul's very fine line work "blacking over." Might I point out that his drawings also "blacks [sic] over" very badly, and that owing to this natural fault it would be advisable if Mr. Paul resorted more to his line shadings, at which he is excellent, and the results of which are as pleasing as the "splatter." (I think this is called "stippling" - am I right?) That is all, I think, for the illustrations."
Back to Frank R. Paul Gallery Main Page
---
Back to Frank Wu's Science Fiction/Fantasy Art
Back to Kitsch Tour U.S.A.
Back to Official Frank Wu Homepage