GALLERY OF FRANK R. PAUL's SCIENCE FICTION ARTWORK
artwork (c) Frank R. Paul estate
Interior Art by Frank R. Paul for Famous Fantastic Mysteries, July 1942, illustrating a reprint of the 1915 story "Polaris of the Snows" by Charles R. Stilson.
This piece appeared on the website "Famous Brassieres of Science Fiction. " The webmaster snidely noted: "In this story a Tarzan clone grows up on Antarctica and stumbles into a lost world of Greek colonists. This illustration caught my eye and earned a place in the Famous Brassieres of Science Fiction because no where in the story is the heroine ever described as wearing anything other than traditional Greek dress. Paul's addition of a Brass Bra is totally out of place and uncharacteristic of the man."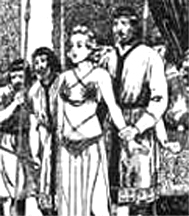 Back to Frank R. Paul Gallery Main Page
---
Back to Frank Wu's Science Fiction/Fantasy Art
Back to Kitsch Tour U.S.A.
Back to Official Frank Wu Homepage