GALLERY OF FRANK R. PAUL's SCIENCE FICTION ARTWORK
artwork (c) Frank R. Paul estate
This cover image was graciously cleaned up by FRP uberfan Loston Wallace. Thanks, Loston.
Cover art by Frank R. Paul for August 1927 Amazing Stories, illustrating a reprint of H.G. Wells' The War of the Worlds.
From the magazine:
"Our Cover this month depicts a scene in "The War of the Worlds," by H.G. Wells, in which the three Martians-highly developed intelligences in bodies vastly differing from ours are seen stalking in their machines, over a town near London, wreaking destruction of life and land by use of their deadly Heat-Rays and long and wiry tentacles."
"To the readers of the 1920s who were not yet familiar with the classic H. G. Wells novel, The War of the Worlds, this Frank R. Paul illustration - possibly his best and almost certainly one of his most finely rendered and detailed - must have been truly striking, especially since in the summer of 1927 no other SF magazines yet existed." Vincent Di Fate, Infinite Worlds, 1997, Penguin Studio, p. 233.
While this is one of my favorite Paul illustrations, I cannot express my appreciation more than reader Alice Franklin of Lincoln, Neb., in a letter published in the March 1929 issue (p. 1148):
"I want to say something in favor of your so-called 'flashy' cover. In August of 1927, I happened to be in Chicago. One afternoon I got off the "L" and as it was raining, I was obliged to wait in the lobby until it ceased. There was a newsstand in this lobby and I believe that every publication in the U.S. was represented there. As is my habit, I immediately began browsing through these for something to help pass the time away.
"Suddenly a bright cover flashed through all the rest and it proved to be the Amazing Stories magazine for August, 1927. I always did have a great liking for the scientific-fiction type of story, so you can rest assured that this magazine did not return to the newsstand. I'll always have a warm place in my heart for Chicago due to the fact that it was there that I first got acquainted with the Amazing Stories. (A lucky day for me!)
"I have not missed a copy of the Monthly or Quarterly editions so far and haven't the slightest intention of doing so.
"One evening I walked two miles just to get the latest edition of A. S. If I would have had to walk that two miles for anything else, I'd have made my reluctance known a mile around."
Paul's cover artwork was reproduced, in part, in miniature and distorted, on the cover of the April 1966 issue of Amazing Stories: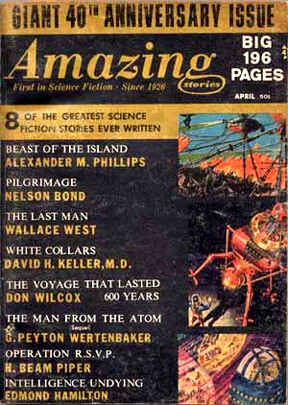 Paul's grand work is reproduced on the cover of a Mexican edition of The War of the Worlds (La guerra de los mundos):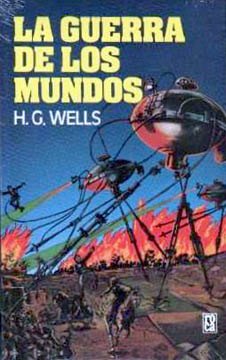 We also see it, a little transmogrified, on the cover of issue no. 2 (Winter 1981) of All Rare: Magazine of Fantasy: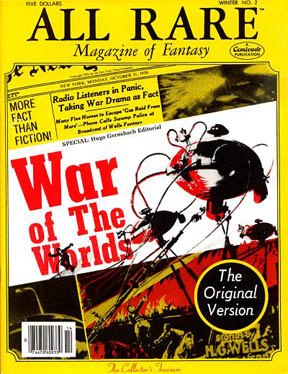 ... and on the cover of the book H.G. Wells on Film: The Utopian Nightmare, by Don G. Smith from McFarland & Co., 2002: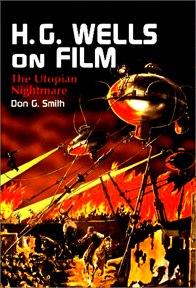 The August 1927 issue also included some killer interior art by Frank R. Paul: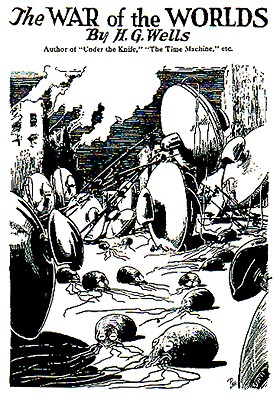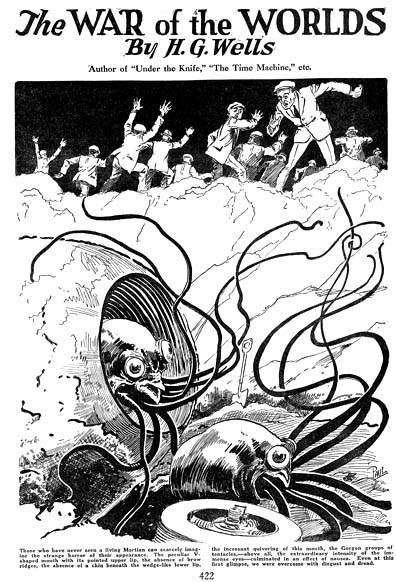 Paul's artwork for The War of the Worlds is probably one of the most reproduced images in all science fiction (and deservedly so). Recently, I wandered into a bookstore and found his cover reproduced in Outre magazine, issue 32.
Back to Frank R. Paul Gallery Main Page
---
Back to Frank Wu's Science Fiction/Fantasy Art
Back to Kitsch Tour U.S.A.
Back to Official Frank Wu Homepage