GALLERY OF FRANK R. PAUL's SCIENCE FICTION ARTWORK
artwork (c) Frank R. Paul estate
Cover Art by Frank R. Paul for February 1939, Dynamic Science Stories.
This cover was one of nine or so reproduced on the cover of Science Fiction Art, compiled and introduced by Brian Aldiss and published by New English library, London, 1975. Another Paul image, for the first issue of Science Wonder Stories, was also featured on that cover.
This cover was also reprinted in Spacecraft in Fact and Fiction, by Harry Harrison and Malcolm Edwards, 1979, Lordon: Orbis Pub.
This painting appeared yet again as the cover for Nebula Award Stories Two, also edited by Brian Aldiss and Harry Harrison, published by Stealth Press: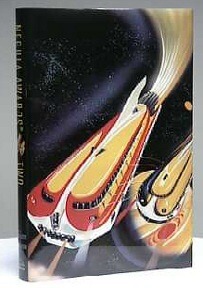 Back to Frank R. Paul Gallery Main Page
---
Back to Frank Wu's Science Fiction/Fantasy Art
Back to Kitsch Tour U.S.A.
Back to Official Frank Wu Homepage