GALLERY OF FRANK R. PAUL's SCIENCE FICTION ARTWORK
artwork (c) Frank R. Paul estate
This cover image was graciously cleaned up by FRP uberfan Loston Wallace. Thanks, Loston.
Cover art by Frank R. Paul for Summer 1930 Wonder Stories Quarterly.
This illo, along with the cover for the October 1939 issue of Science Fiction magazine, may have been an inspiration for the original Star Trek "Galileo Seven" episode.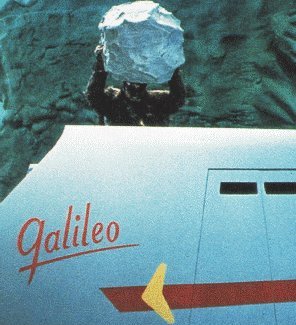 Possibly also an inspiration for the "classic" Lost in Space episode "There Were Giants in the Earth." A scene from that episode is shown below in model form: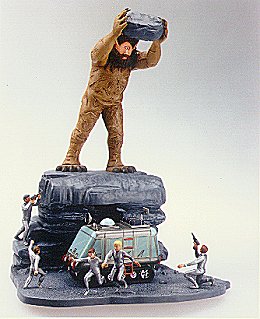 In both the Lost in Space episode and the FRP illo, the giants holding huge rocks overhead are cyclopian.
Back to Frank R. Paul Gallery Main Page
---
Back to Frank Wu's Science Fiction/Fantasy Art
Back to Kitsch Tour U.S.A.
Back to Official Frank Wu Homepage