GALLERY OF FRANK R. PAUL's SCIENCE FICTION ARTWORK
artwork (c) Frank R. Paul estate
Cover art by Frank R. Paul for October 1932 Wonder Stories, illustrating "Master of the Asteroid" by Clark Ashton Smith.
The scary alien in the viewport of the ship became something of a staple in movies about exploring new worlds: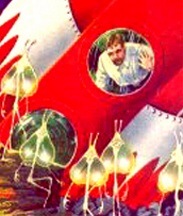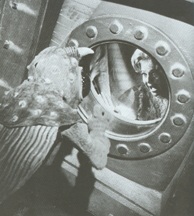 Paul's image; Selenites menace the girl, from First Men in the Moon.
Back to Frank R. Paul Gallery Main Page
---
Back to Frank Wu's Science Fiction/Fantasy Art
Back to Kitsch Tour U.S.A.
Back to Official Frank Wu Homepage