GALLERY OF FRANK R. PAUL's SCIENCE FICTION ARTWORK
artwork (c) Frank R. Paul estate
Cover by Frank R. Paul for Aug. 1929 Science Wonder Stories, illustrating "The Problems of Space Flying" by Capt. Hermann Noordung.
Ron Miller said this about this work: "The first color painting of a space station ever published in the U.S. depicts Hermann Noordung's design of parabolic mirrors that provide power and a cylindrical observatory." (Space Art, 1978, Starlog Publ., p. 136)
Lester Del Rey had this to say: "Paul has often been accused of being unable to draw human figures and faces well, and most of his science-fiction illustrations ... seem to bear this out. His human beings appear to be all alike. The clothes of the men are often right from the popular idea of what an engineer in the field might wear, from boots to bush jackets. Yet I have seen a few later paintings by Paul that show considerable skill at portraiture; and in some of the covers (as in the August 1929 Science Wonder Stories cover...), the human heads were no more stylized than the ones on many other magazine covers of the day. Generally, he did not make any great effort to do careful portraits of people - that was not the center of interest for the readers. The machinery and backgrounds, which were the center of interest, were executed with great care and skill and with a surprising variety of imagination." Fantastic Science-Fiction Art, 1926-1954, 1975, Ballantine Books, N.Y.
Paul's skillfully executed space station re-appeared on the cover of the Summer 1968 issue of Famous Science Fiction: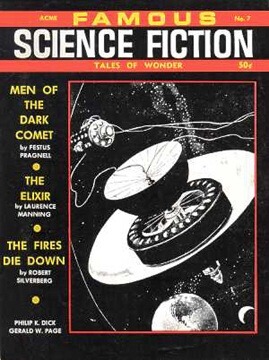 Paul also re-visited this design in an illustration for Hugo Gernsback's Forecast magazine:

(This image was reproduced with commentary, auction catalog, The Sam Moskowitz Collection of Science Fiction, 1999, Sotheby's, New York, pp. 66-67)
Back to Frank R. Paul Gallery Main Page
---
Back to Frank Wu's Science Fiction/Fantasy Art
Back to Kitsch Tour U.S.A.
Back to Official Frank Wu Homepage