GALLERY OF FRANK R. PAUL's SCIENCE FICTION ARTWORK
artwork (c) Frank R. Paul estate
Cover art by Frank R. Paul for September 1929 Science Wonder Stories, illustrating "The Onslaught from Venus" by Frank Phillips.
This image, in the form of a poster of a fan tribute oil painting done by Anton Brzenzski is available from: Terry Holdings, LLC. This is image no. 010 in their Forrest J. Ackerman collection.
One wonders if the two-legged machine was one of the inspirations for the AT-ST's ("chicken walkers") from the Star Wars movies: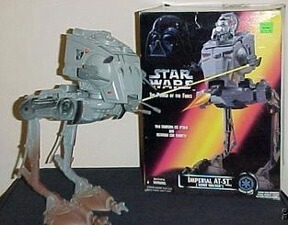 ---
"Letters were written to the editor praising [Paul's] work; his fans begged for and bought the original art and waited impatiently for the next month's magazine to appear at the newsstand." Robert Lesser, Pulp Art, 1997, Gramercy Books, p. 28.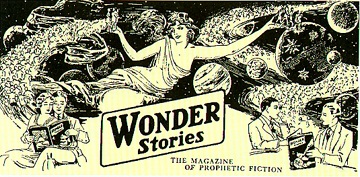 Paul's drawing that first regularly appeared as a masthead c. 1929.
Back to Frank R. Paul Gallery Main Page
---
Back to Frank Wu's Science Fiction/Fantasy Art
Back to Kitsch Tour U.S.A.
Back to Official Frank Wu Homepage