EVEN MORE LUMINARIES OF THE SCI-FI WORLD & ME
More pictures of me (Frank Wu) and assorted important and upcoming sci-fi and fantasy writers, editors and artists, whom I have had the pleasure of consorting with.
TORONTO TREK 17, JULY, 2003
This was the first media convention (as opposed to literary or general) sci-fi con I had attended in awhile, so it was a lot of fun. Guests included Gil Gerard (Buck Rogers), Erin Gray (Wilma Derring) and Felix Silla (Twiki) from Buck Rogers; Anthony Head (Giles) from Buffy; Garrett Wang (Ensign Kim) from Star Trek Voyager; Nana Visitor from Star Trek DS9.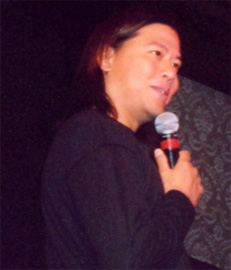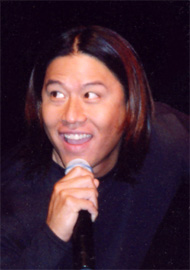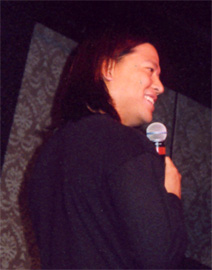 It was really inspirational for me, of 100% Chinese descent, to see Garrett Wang, also Chinese, onstage talking about his adventures as Harry Kim on Star Trek: Voyager. His story - like that of many creative Chinese Americans - was that his parents wanted him to do something safe and practical with his life. They flipped out when he said he wanted to leave medical school to go be an actor. How Chinese actors were working in Hollywood at the time? they asked, and he couldn't think of any. But he went anyway. My dad thought I was crazy, too, when I quit my well-paying job in a law firm to go off and do artwork full-time. We showed them, didn't we, Garrett?
He also said that, despite their initial hesitancy about his desired profession, when the first Voyager episode aired, his dad had three (count 'em, three!) VCRs all going on in the house at the same time - in case two broke. That sounds about right.
The other Star Trek guest, from DS9, was Nana Visitor: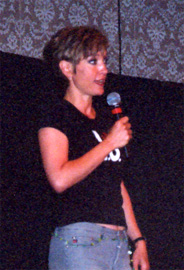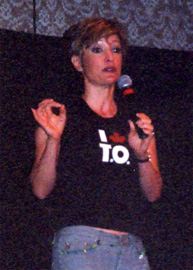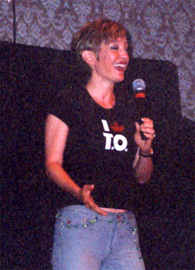 Also in attendance was Jason Carter, who played Marcus Cole in Babylon 5: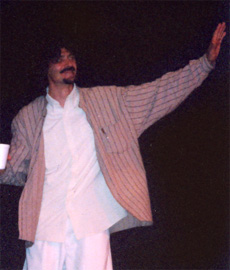 Anthony Head, who played Buffy's watcher Giles: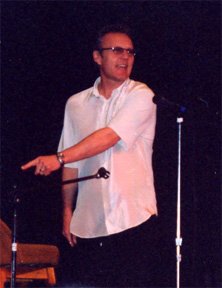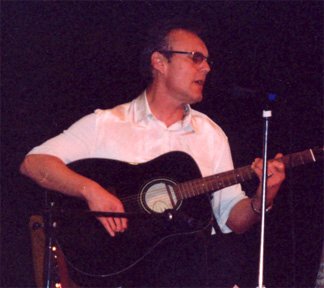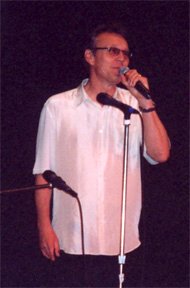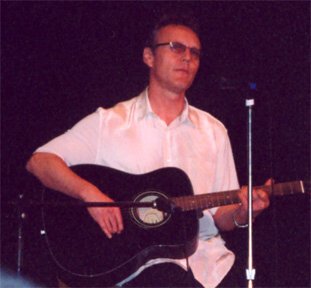 I had missed the first session Anthony had (wherein he probably answered questions like: Are you going to be the next Dr. Who, if there is one?). Oh well. Sorry. But I did see the second - wherein he sang for us. He talked about being onstage for "Chess" and forgetting the words. He looks down and the orchestra is still going. What can you do, but just come in on the next verse. So he thus apologized in advance for forgetting lyrics and chords. In the last foto, he looks up, as he stops in the middle of a song to remember the chord. He is the only person I know of, who can screw up a song and get a warm laugh.
One of the songs Anthony played was a song he wrote about missing his daughters. The next question from the audience was: Why did you have such a reduced role the last year of Buffy? His reply: Didn't you hear the song I just played?
Karen Bennett - of the fanzine Voyageur fame - has posted a full transcript of Anthony's first session, wherein he also answers thought-provoking questions like, What size are your feet? and makes a disparaging joke about Cleveland. Click here.
Three of the folks from the Buck Rogers movie and TV show from the late 1970's were there: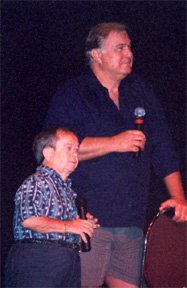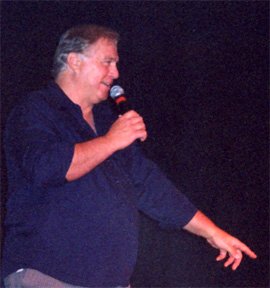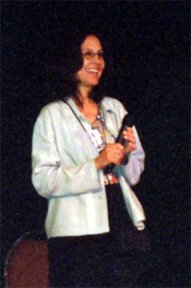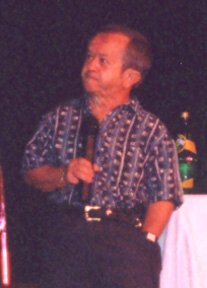 These fotos are from a panel I went to called "Klingon Survivor." Many trivia questions, which were, well, basically impossible. But here contestants are eating qagh, Klingon serpent worms, cleverly disguised as sour gummi worms.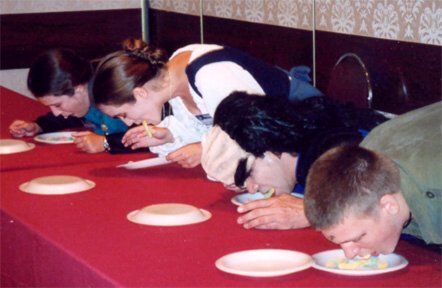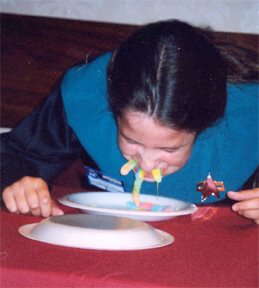 Some more fotos from Toronto Trek:
Here's me at an auction selling a print of "Cometary Bliss" for charity: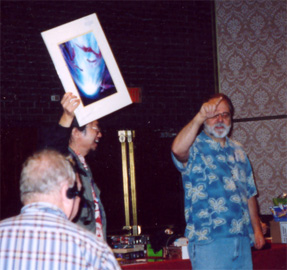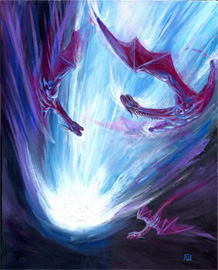 Below Julie Czerneda poses with the fan who won the auction for a pair of enormous Klingon bat'leth: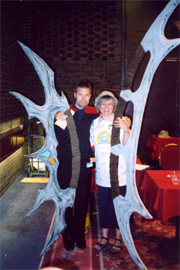 Another bat'leth is given to a sound man during the masquerade for his years of service: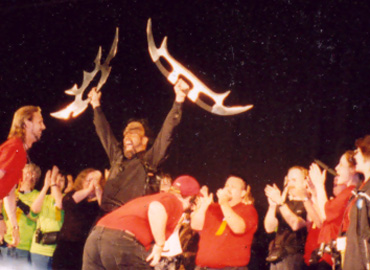 And we close with an angel, also from the Toronto Trek masquerade: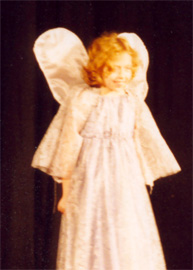 MORE LUMINARIES

BACK TO HOME (FRANK WU's ART!)
Indexed list of fotos of me and luminaries (number indicates the page they're on):
Forrest J. Ackerman 1, Daniel Abraham 5, Carlo Arellano 2, Art car artists 3, Kage Baker 3, Greg Bear 10, Gregory Benford 5, Terry Bisson 9, Diana Blackmom 8, Ken Brady 8, Kent Brewster 2, (I'm Just a) Bill 3, Jae Brim 2 5 12, David Brin 7, Charles N. Brown 9, William Brown 1, Tobias Buckell 5, Jim Burns 8, John Burridge 8, Erwin Bush 2, Chris Butler 3, Jason Carter 11, Ted Chiang 6, Eric Choi 7, Andy Clarkson 2, Hal Clement 5, Rick and Bridget Coila 12, Julie Czerneda 1 (big head Julie) 4 7 12, Ellen Datlow 5, John DeChancie 3, Kim DeMulder 7, Vincent DiFate 1, Cory Doctorow 5, James S. Dorr 6, Denise Duff 2, Bob Eggleton's hair 5 10, Harlan Ellison 7, Charles Coleman Finlay 12, Marina Fitch 2, Frank Kelly Freas 1 3 5, Esther Friesner 7, Susan Fry 5, Chris Garcia 10, Michelle Garrison 8, Gil Gerard 11, Lisa Goldstein 9, Kirsten Gong-Wong 9, Erin Gray 11, Kelly Green 10, Joe Haldeman 6, Jennifer Hall 9, Anthony Head 11, Russ Heath 4, Barb and JC Hendee 8, Alea Henle 6, Jay Arr Henderson 1, Raechel "Roach" Henderson and Matt Moon 5, Howard Hendrix 10, Nina Kiriki Hoffman 1 8, Rob Hole Jr. 10, iguana 5, Rebecca Inch-Partridge 1 5 10, Alex Irvine 5, Jaws 5 10, Rebekah Jensen 1 5 10, Lindsey Johnson 1 4 5 8 10, Tim Johnston 2, Mark R. Kelly 5, Simran Khalsa 12, David Kile 7, James Killus 3, Klingon Survivor 11, Greg Koster 10, Jay Lake 4 8, Geoffrey Landis 8 12, Warren Lapine's hair 5, Deb Layne 8, Lenora Rose 6 12, Aurora Lemieux 8, Natasha Levitan 10, Val Lakey Lindahn and Ron Lindahn 1, Samantha Ling 9, David Marusek 5, Fiona McAuliffe 4, Tiffanie McCoy 5, Terry McGarry 8, Jessie McKenna 4, Besty Mitchell 8, Syne Mitchell 8, Mary Anne Mohanraj 2, Mike Moscoe 8, Derryl Murphy 2, G. David Nordley 9, Jerry Oltion 4, Kathy Oltion 4, Diana Paxson 10, Karen Perry 2 12, Bill Pierce 5 10, Tim Powers 1 2, Sergey Poyarkov 2, Ken Rand 8, Jonathan Richman 6, Kim Stanley Robinson 9, Dianna Rodgers 8, Rhea Rose 8, Jamie Rosen 12, Deborah J. Ross 10, Rowena 7, Robert J. Sawyer 7, Ken Scholes 8, Liz Shannon 8, Heather Shaw 9, Robert Sheckley 6, Diana Sherman 12, Gary Shockley 5 9, Felix Silla 11, Robert Silverberg 7, S.N.Arly 6, Wen Spencer 5, Ted Stetson 8, Carel Struyken 7, Patrick and Honna Swenson 2 8, Isaac Szpindel 7, Jason Taniguchi 7, Bruce Taylor 8, Jim Terman 1 5 9 10 12, Helen Thompson 6, Mark Tiedeman 4, Bjo Trimble 5, Jeffrey Turner 8, Mary Turzillo 12, Carol Ullman 6, James Van Pelt 6, Carrie Vaughn 10, Vernor Vinge 5, Nana Visitor 11, Ray Vukcevich 1 4, Garrett Wang 11, Lara Wells 5, Michelle West 12, Ken Wharton 1 3 4 5 12, Leslie What 8, Michael Whelan 8, Lori Ann White 1 2 3 5 6 8 10 12, Connie Willis 5 9, Eric Witchey 2 4, Jason Wittman 6, Gary K. Wolfe 9, William F. Wu 3, Susan Yi 5, Melissa Yuan-Innes 1.
If you are looking for more fotos from various conventions, check out Mid-American Fan Foto Archive.