EVEN MORE LUMINARIES OF THE SCI-FI WORLD & ME
More pictures of me (Frank Wu) and assorted important and upcoming writers, editors and artists, mostly science fiction and fantasy, whom I have had the pleasure of consorting with.
The next bunch of the folks on this page aren't sci-fi folks, but they are art folks. ArtCar folks, that is. Creators of strange vehicles welded and sculpted and painted and assemblaged... ArtCars.
ARTCAR SHOW, BERKELEY, CA., 2001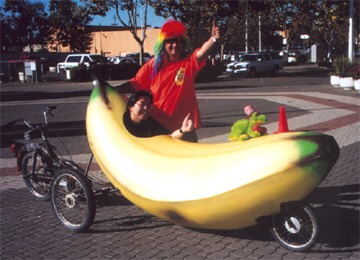 I got to drive the Banana Bike! Artist/Mechanic Terry Axelson told me I didn't "look like a nutcase" and asked me if I wanted to putt around in his moped shaped like a banana. Like how! He said it got up to 30 mph, but I was so scared of overturning or otherwise wrecking someone else's artpiece that I don't think I took it above, well, 5. He said it used to be used a peddled tricycle, but then he attached the business end of a moped onto the back. The banana's also got a handlebar grip on the inside with motorcycle-type controls. Pretty darn cool! While I was sitting inside someone came by and said, "Look like you're a fruit peddler!" And Terry was amused - he said that in all the years he's had the banana bike, he's heard lots of puns, but that was probably his favorite.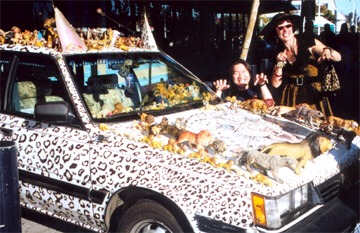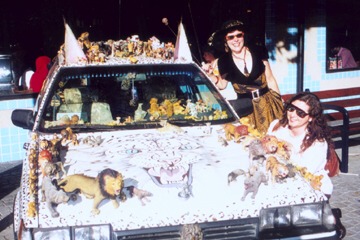 The Leopard Car, more properly known as Leopard Bernstein, is a creation of Seattle artiste Kelly Lyles, who's also a painter and illustrator. Check out her website here. She's pretty cute, too, in her leopard outfit (she has several). This was a '89 Subaru DL wagon in another lifetime, and then she had her then-boyfriend paint the snarling leopard on the hood (which is hard to see in the fotos). Plastic menagerie was added, and ears and tail, and voila! Leopard car. In the second foto, we see Kelly with my friend (who wanted her real name deleted from my site and asked to be called "Lisa"). Despite her initial doubts to my sanity, "Lisa" let me drag her to the Oakland ArtCar festival, where these shots were taken - as I have dragged her and others to short film festivals, dead media presentations, sci-fi conventions and various arty things. I suck all my friends into my curious schemes.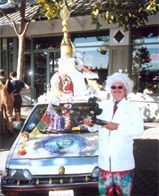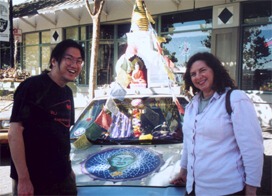 Dr. Schlock, who was born as Larry S. Neilson, is also from Seattle, and is shown here with his "Buddha Buggy." He said that it started with the painted Buddha on the hood, but when he took it to ArtCar shows, people said, "It's not much of an ArtCar." So he added a bunch of stickers and little trinkets to it, and those who judge these things still said, "It's not much of an ArtCar." Then he sculpted the four-foot tall detactable stupa, complete with sculpted Buddha (he is a practicing Buddhist), and then the ArtCar artists finally accepted him as one of their own. Must have been pretty gratifying for him to start winning awards for his artcar - as he did the day we met him. The vehicle was a '87 Honda CRX in a previous lifetime.
FOTOS FROM LosCON '01
Where have you gone, Joe DiMaggio,
a nation turns its lonely eyes to you...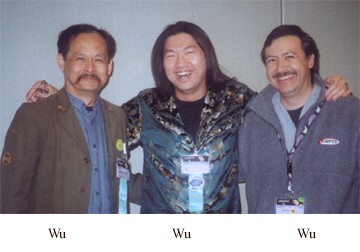 I start my LosCon show with a foto I've waited YEARS to have taken. In the picture are the Three Wu's: William F. Wu, me (Frank Wu), and William G. Wu. WGW is a magician (he amazed us all with his tricky card tricks). WFW is the famous sci-fi writer, multiple Hugo- and Nebula-nominee, author of 14 books and perhaps most famous for the Hong stories. (He told me that his one story, "Hong's Bluff" was rejected 21 (!) times by every major magazine at the time. He thought it was better than fanzine or semi-pro material, so he hung on to it, and eventually OMNI bought it. Then they reprinted it six (!) times in various collections, and he got nominated for both the Hugo and Nebula for it. So there.)
I have long wanted to meet WFW, because I frequently get asked if we're related (no, sorry, and the Chinese characters for our last names are different). I also wanted to ask "Bill" about his middle name, which happens to be Franking, a "Frank" variant I'd never seen before in my life. He explained that it was a corruption of his grandfather's name, "Frank Ng," which an immigration official apparently mutated into "Franking." So it was a joy and a pleasure to finally meet William F. Wu, especially since he doesn't get to a lot of conventions these days. Bill's cool website is here. One one page, WFW posted a haiku I asked him to write about the occasion:
Deja, Deja Wu

Art, science fiction
random particles collide.
Wu, Wu, Wu all around
Below is a (composite) foto of a physics panel that some friends of mine were on. My housemate James Terman, Ph.D. (astrophysics, Columbia Univ.), is there on the left. On the far right is Ken Wharton, who begged onto every panel he could, to tirelessly promote his new (first) novel, Divine Intervention. In between are the sci-fi writers James Killus, John DeChancie, and Kage Baker. (Kage told a hilarious story at a different panel about a cone-shaped traffic barrier in San Francisco that was mistaken for a Shiva lingam; it eventually had its own temple built for it.) Regarding the topic at hand, Ken talked about his T1 and T2 theories of time travel (named after the Terminator movies) in which past history is either fixed (T1) or changeable (T2); he said there weren't enough stories about T1.

Below is a (composite) foto of a panel I was on about "mistakes" in astronomical art. From right to left are: Robert Cesarone, me, artist guest of honor Chris Butler (does some really nifty space art, including a missing man formation done with Space Shuttles, and cool paintings of dinosaurs, too), Frank Kelly Freas (who is a giant among men), and Robert Counley. The two Roberts on the ends are techies from the Jet Propulsion Lab in Pasadena, which operates all those probes that go to the outer planets to take photos for us. In the picture I am showing a print of my painting "Silence Before Starlight," which features an astronaut in space taking off his faceplate to kiss a spacebabe. Chris is here commenting that if NASA could produce actual fotos of spacebabes, they would never again have budget problems.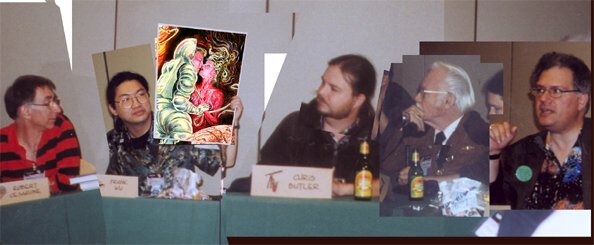 Even though I was on the panel, I learned a lot of stuff, too. A revelation for me was that probably the first laser shot from an enemy vessel would not be visible (as there would be not enough particles in space - even in a nebula to scatter the light back to the viewer). But, as particulates of debris accumulated in the area, the second shot might be visible, with subsequent shots becoming more and more visible. Chris also had some interesting points (and I had a picture) of what your hair looks like in zero g (actually the microgravity of a space shuttle): basically, every day in space is a bad hair day. Additional fotos from this panel can be found at Hazel's picture gallery here.
I was also on another panel, where there was almost a fist fight. The topic was which old sci-fi movies should be remade, and the discussion got pretty heated. On one side were panelists Bill Warren (fifties sci-fi movie expert) and Brad Linaweaver (who's written a bunch of stuff), with an audience member on the other side. The argument was about Mystery Science Theater 3000, and whether it taught the unspoken message that old movies were bad and should be made fun of (as Bill said) or mutilated the old movies by talking over their best lines (as Brad said), or whether they were a valid medium for introducing old movies to a new set of fans (the audience member). I managed to cut off debate before any actual blood was spilled.
And finally...
Here I am at LosCon posing with probably the most famous "person" I've ever had a foto with...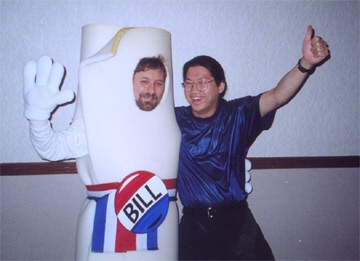 THE NEVER ENDING SEARCH FOR ARTISTIC COOLNESS...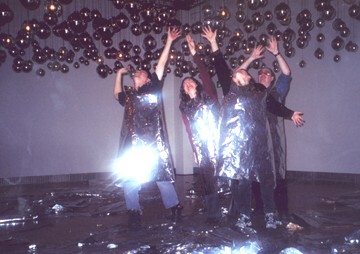 Me, my friend "Lisa", Lori Ann White and Jim Terman at the Yerba Buena arts center, San Francisco, Dec., 2001. They were recreating a 1929 Bauhaus paper where people (in a vision of a future that was never to be) wore silver clothes and danced under silver balls suspended from the ceiling. Here we are, after being suited up with silvery mylar smocks and sent into a weird chamber. What looked like over-sized Christmas ornaments hung over our heads, and ripped-up sheets of shiny silver mylar lay (or lie, I'm not really sure) at our feet. Pretty weird and cool, definitely made you feel like you were in a different environment.

MORE LUMINARIES
Indexed list of fotos of me and luminaries (number indicates the page they're on):
Forrest J. Ackerman 1, Daniel Abraham 5, Carlo Arellano 2, Art car artists 3, Kage Baker 3, Greg Bear 10, Gregory Benford 5, Terry Bisson 9, Diana Blackmom 8, Ken Brady 8, Kent Brewster 2, (I'm Just a) Bill 3, Jae Brim 2 5, David Brin 7, Charles N. Brown 9, William Brown 1, Tobias Buckell 5, Jim Burns 8, John Burridge 8, Erwin Bush 2, Chris Butler 3, Ted Chiang 6, Eric Choi 7, Andy Clarkson 2, Hal Clement 5, Julie Czerneda 1 (big head Julie) 4 7, Ellen Datlow 5, John DeChancie 3, Kim DeMulder 7, Vincent DiFate 1, Cory Doctorow 5, James S. Dorr 6, Denise Duff 2, Bob Eggleton's hair 5 10, Harlan Ellison 7, Marina Fitch 2, Frank Kelly Freas 1 3 5, Esther Friesner 7, Susan Fry 5, Chris Garcia 10, Michelle Garrison 8, Lisa Goldstein 9, Kirsten Gong-Wong 9, Kelly Green 10, Joe Haldeman 6, Jennifer Hall 9, Russ Heath 4, Barb and JC Hendee 8, Alea Henle 6, Jay Arr Henderson 1, Raechel "Roach" Henderson and Matt Moon 5, Howard Hendrix 10, Nina Kiriki Hoffman 1 8, Rob Hole Jr. 10, iguana 5, Rebecca Inch-Partridge 1 5 10, Alex Irvine 5, Jaws 5 10, Rebekah Jensen 1 5 10, Lindsey Johnson 1 4 5 8 10, Tim Johnston 2, Mark R. Kelly 5, David Kile 7, James Killus 3, Jay Lake 4 8, Geoffrey Landis 8, Warren Lapine's hair 5, Deb Layne 8, Lenora Rose 6, Aurora Lemieux 8, Natasha Levitan 10, Val Lakey Lindahn and Ron Lindahn 1, Samantha Ling 9, David Marusek 5, Fiona McAuliffe 4, Tiffanie McCoy 5, Terry McGarry 8, Jessie McKenna 4, Besty Mitchell 8, Syne Mitchell 8, Mary Anne Mohanraj 2, Mike Moscoe 8, Derryl Murphy 2, G. David Nordley 9, Jerry Oltion 4, Kathy Oltion 4, Diana Paxson 10, Karen Perry 2, Bill Pierce 5 10, Tim Powers 1 2, Sergey Poyarkov 2, Ken Rand 8, Jonathan Richman 6, Kim Stanley Robinson 9, Dianna Rodgers 8, Rhea Rose 8, Deborah J. Ross 10, Rowena 7, Robert J. Sawyer 7, Ken Scholes 8, Liz Shannon 8, Heather Shaw 9, Robert Sheckley 6, Gary Shockley 5 9, Robert Silverberg 7, S.N.Arly 6, Wen Spencer 5, Ted Stetson 8, Carel Struyken 7, Patrick and Honna Swenson 2 8, Isaac Szpindel 7, Jason Taniguchi 7, Bruce Taylor 8, Jim Terman 1 5 9 10, Helen Thompson 6, Mark Tiedeman 4, Bjo Trimble 5, Jeffrey Turner 8, Carol Ullman 6, James Van Pelt 6, Carrie Vaughn 10, Vernor Vinge 5, Ray Vukcevich 1 4, Lara Wells 5, Ken Wharton 1 3 4 5, Leslie What 8, Michael Whelan 8, Lori Ann White 1 2 3 5 6 8 10, Connie Willis 5 9, Eric Witchey 2 4, Jason Wittman 6, Gary K. Wolfe 9, William F. Wu 3, Susan Yi 5, Melissa Yuan-Innes 1.
Back to Frank Wu sci-fi art.