THE LUMINARIES OF THE SCI-FI WORLD & ME
Various pictures of me (Frank Wu) and assorted important and upcoming science fiction and fantasy writers, editors and artists whom I have had the pleasure of consorting with. These are mostly taken at various science fiction conventions through the years; I've also thrown in a couple other fun con pictures for your amusement.
WESTERCON, PORTLAND, JULY 2001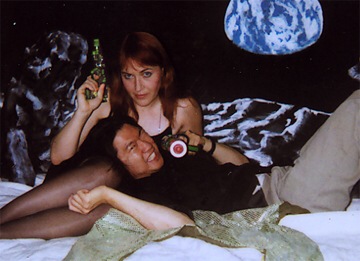 On the alien skin rug with author Lori Ann White (WesterCon 2001). Lori was one of the first Writers of the Future contest winners. She also knows all the words to Rocky Horror Picture Show. Law's got a story ("Target Audience") due out soon in Asimov's and had a bet going with a bunch of her friends. If she didn't finish a draft of her novel by Christmas (2001), she would buy us all dinner. (Her novel takes place in China during the Boxer Rebellion and I keep bugging her about it, but she doesn't have a title she's happy with yet.) She finished. At a reading at the SiliCon '01 sci-fi convention, Lillian Csernica introduced Lori White as "one of the finest prose stylists, published or unpublished" that Lillian had ever read - and this was truly was one of the greatest compliments one writer has ever given another.
Lori's husband Gary Shockley was one of the first Grand Prize winners in WOTF, so he gets to be listed in The Science Fiction Encyclopedia, which I find endlessly cool, since I would kill to be mentioned in some future edition of that book. (Ah, yes, I would kill, but would I do art to be mentioned?)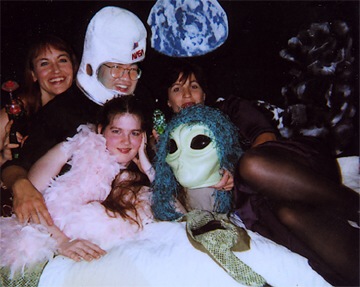 Me surrounded by spacebabes: authors Lori Ann White, Lindsey Johnson and Rebecca Inch-Partridge. Rebecca is creator of the Paraxous Cluster, which includes a really interesting collection of strange aliens. A couple of the Paraxous stories have appeared in the print SF magazine Hadrosaur Tales, and Rebecca has a total of nine novels in mind. Lindsey (Linz) will go to the old folks' farm still looking like she's fifteen - this is an irrelevant, but character-building detail. Lindsey is shopping around a novel she's finished. I also used Lindsey as one of my models for the cover for Jennifer Barlow's first novel, Hamlet Dreams. (Eventually all my friends and associates become models.)
A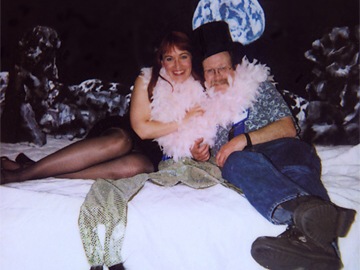 B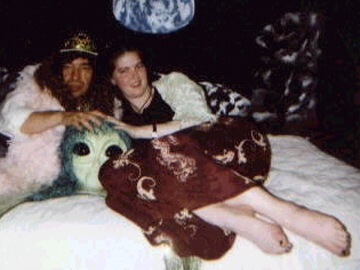 From the same party: A. Lori (as a self-proclaimed rent-a-babe) and author Ray Vukcevich, celebrating the release of his short story collection Meet Me in the Moon Room, which is just a marvelous, marvelous, marvelous collection of absurdist sci-fi. (Where else can you read about a future wherein people spontaneously grow spacesuits that cover their bodies before they are inextricably draw off into outer space?) Ray was up for the Philip K. Dick award for best sci-fi paperback, but, alas, lost to Richard Paul Russo.
At the time this picture was taken, I had never heard of Ray or read any of his stories. Within the next year, I actually got a copy of Meet Me in the Moon Room and suddenly became a huge fan of his loopy, unpredictably wacky stories. Another favorite is the one where a guy, misunderstanding his gal's displeasure at his bald head, glues a turtle - a live, squirming turtle - on his bald spot. This, after he glues a snake to his face 'cos he doesn't have a mustache. If you read the story, it all makes sense. Sort of. But it's really, really funny.
B. Jay Arr Henderson with tiara and boa, with Lindsey Johnson. Jay Arr describes himself in third person thus: "He has published about three dozen short stories, poems and articles as a free-lancer. His free-lance credits include The Chronicle, The Entertainer, Lighthouse, Studies in American Indian Literature, Jackhammer, Jackhammer Print, Spaceways Weekly, Planet Relish, Dark Matter Chronicles, AlienQ, Winedark Sea, The Fiction Writer and Would That It Were. His stories "The Alien in the Gray Flannel Suit" and "Binky at the End of the World" were chosen for the SW Anthology. He also published several million words in various newspapers." Several million words. Wow.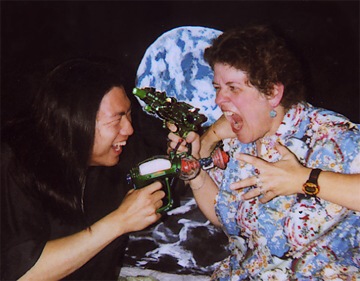 Dueling with laser blasters with Nina Kiriki Hoffman, who has written tons of cool stories. (This is still Westercon 2001.) I had first met Nina at BayCon '98, when I was just starting out on my career as a sci-fi artist, and she really liked my illustration for Grendel. She was the first famous genre person I'd met, and it took me weeks to recover. Nina and I saw each other a couple months after this foto was taken, and we decided that each time we met, we would great each other with the same good-natured snarl, whether or not we were armed at the time. There are more fotos from this same party on Leslie What's website.
WRITERS and ILLUSTRATORS OF THE FUTURE AWARDS CEREMONY, HOLLYWOOD, SEPT. 2000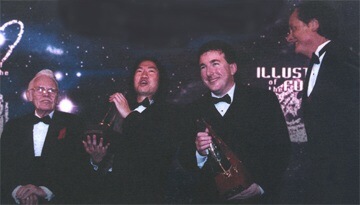 SF/F artist Frank Kelly Freas, me, Writers of the Future Grand Prize winner Gary Murphy, and author Tim Powers. Powers is author, of course, of an armload of great novels, including The Anubis Gates, Dinner at Deviant's Palace, and The Stress of Her Regard. Frank Kelly Freas, who has won more Hugo Awards than you can count, has always been a great hero and inspiration to me. The image he painted of a sad giant robot holding up a broken body of a dead man, not understanding how something dies (This painting was the inspiration for Queen's News of the World album cover) ... that image is just burned into my consciousness. It was a thrill and privilege to share the stage with him at the Illustrators of the Future awards ceremony (Sept. 2000).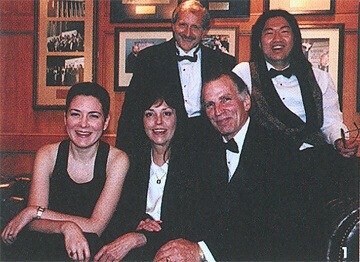 Back row: SF artist Vincent Di Fate and me; front row: Barbara Ruiz and artists Val Lakey Lindahn and Ron Lindahn. Barbara is the Executive Director of Author Services, which runs the Illustrators of the Future contest. This photo is one of my favorites, and it was taken during the party after I won the Grand Prize in the IOTF contest.
For a more detailed description of my experiences with the Illustrators of the Future contest, click here.
BERKELEY, CA., OCT. 2000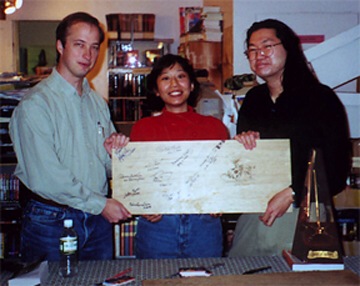 With authors William Brown and Melissa Yuan-Innes (both Writers of the Future winners in the same class as me). William has gathered unto himself a considerable amount of critical acclaim for his story "Home Grown," a nifty bio-engineering tale. For her work, Melissa received several nominations this year (2001) for the John W. Campbell Award. We are shown here at a book-signing (for Writers of the Future, Vol. 16) at Other Change of Hobbit in Berkeley, California. We are holding a board which had been previously autographed by various other sci-fi and fantasy writers. We were truly honored to add our names to such an illustrious piece of wood; I drew a small, cramped version of Resurrection Man on it.
AT THE ACKERMANSION, LOS ANGELES, MARCH 2001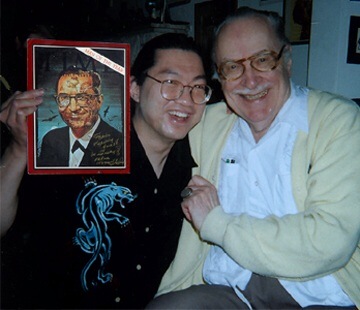 With the great Forrest J. Ackerman. Forrie is the first person to ever have a fan letter published in a science fiction magazine; the first to wear a costume at a sci-fi convention, and hence the originator of the costume ball; the creator of Vampirella and the coiner of the phrase "sci-fi", to list just a few things on his illustrious resume. Forrie is also in charge of the Frank R. Paul estate, and I run the official FRP website. I am holding a copy of his autobiography, Amazing Forries. He had had that little magazine about himself published in the mid-seventies to celebrate his sixtieth birthday. I had hunted around eBay for months trying to find that, and when I presented it to him for an autograph, he was absolutely stunned.
WILLYCON, WAYNE STATE, NEB., MARCH 2001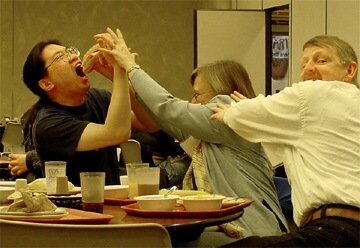 At WillyCon 2001, being force-fed a huge sandwich by Canadian author Julie Czerneda and her husband Roger. Julie and I were Author Guest of Honor and Artist Guest of Honor, respectively, but all we did was eat and talk and party. Julie is author of the novels In the Company of Others; and A Thousand Words for Stranger and Beholder's Eye and their sequels. Julie ("Bull Dog") and her husband Roger ("Hound Dog") are pretty good bowlers, but Roger is easily distracted by Julie and me ("Mad Dog").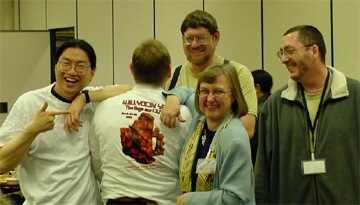 Roger, showing off the back of the previous year's WillyCon T-shirt (artwork by Mark Ferrari); with Ron Vick (R) and Stan Gardner (in back). Ron and Stan did advising, planning, webmastering, opening ceremony organizing, short story and art show coordinating, poster production, T-shirt design, dance coordination, public relations and administrative services (whew!) for the whole con.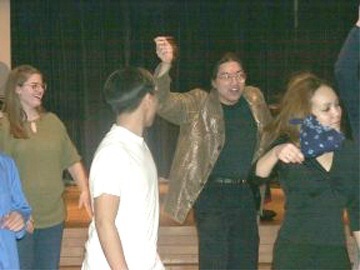 Dancing in my golden faux alligator skin jacket.
SPRING BBQ, SUNNYVALE, CA., MAY 2001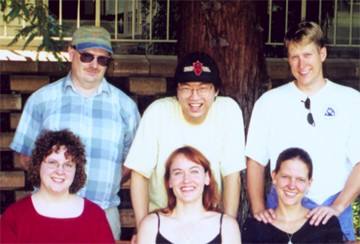 RumorMillers from the Speculations website writers' newsgroup, hanging out at a BBQ (any time is a good time for BBQ). Top: Jim Terman, my housemate and budding science fiction writer; me with Darth Maul baseball cap, which I've since lost (darn); Ken Wharton; Bottom: Rebekah Jensen, Lori White, and Ken's wife Kate, who earned a Ph.D. studying mantis shrimps. Rebekah has completed a fantasy novel which she is currently shopping around (she's gotten a few nibbles from agents). Ken Wharton, who became a physics professor at San Jose State U. fall 2001, has a first novel called Divine Intervention. It was officially being published just a couple days after LosCon, so he couldn't hawk it there. LosCon is the most important con in L.A. (it's over Thanksgiving weekend), but he couldn't sell his book there.
At the same BBQ Lori, who is also a shaolin kung fu expert, couldn't resist showing off with her sword: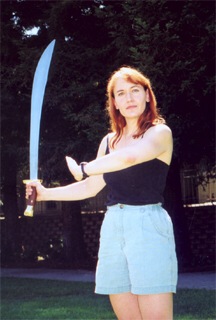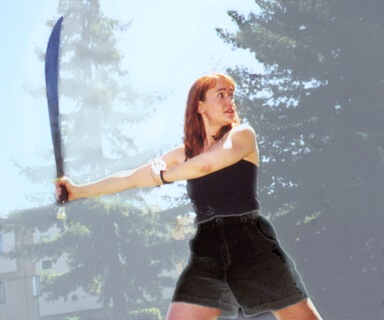 MORE LUMINARIES
Indexed list of fotos of me and luminaries (number indicates the page they're on):
Forrest J. Ackerman 1, Daniel Abraham 5, Carlo Arellano 2, Art car artists 3, Kage Baker 3, Greg Bear 10, Gregory Benford 5, Terry Bisson 9, 13, Diana Blackmom 8, Ray Bradbury 13, Ken Brady 8, Kent Brewster 2, (I'm Just a) Bill 3, Jae Brim 2 5 12, David Brin 7, Charles N. Brown 9, William Brown 1, Tobias Buckell 5, Jim Burns 8, John Burridge 8, Erwin Bush 2, Chris Butler 3, Jason Carter 11, Ted Chiang 6, Eric Choi 7, Andy Clarkson 2, Hal Clement 5, Rick and Bridget Coila 12, Julie Czerneda 1 (big head Julie) 4 7 12, Ellen Datlow 5, John DeChancie 3, Kim DeMulder 7, Vincent DiFate 1, Cory Doctorow 5, James S. Dorr 6, Denise Duff 2, Micheala Eaves 13, Bob Eggleton's hair 5 10, Harlan Ellison 7, E.T. 13, Charles Coleman Finlay 12, Marina Fitch 2, Frank Kelly Freas 1 3 5, Esther Friesner 7, Susan Fry 5, Chris Garcia 10, Michelle Garrison 8, Gil Gerard 11, Lisa Goldstein 9, Kirsten Gong-Wong 9, Erin Gray 11, Kelly Green 10, Joe Haldeman 6, Jennifer Hall 9, Anthony Head 11, Russ Heath 4, Barb and JC Hendee 8, Alea Henle 6, Jay Arr Henderson 1, Raechel "Roach" Henderson and Matt Moon 5, Howard Hendrix 10, Nina Kiriki Hoffman 1 8, Rob Hole Jr. 10, iguana 5, Rebecca Inch-Partridge 1 5 10, Alex Irvine 5, Jaws 5 10, Rebekah Jensen 1 5 10, Lindsey Johnson 1 4 5 8 10, Tim Johnston 2, Mark R. Kelly 5, Simran Khalsa 12, David Kile 7, James Killus 3, Klingon Survivor 11, Greg Koster 10, Jay Lake 4 8, Geoffrey Landis 8 12, Warren Lapine's hair 5, Deb Layne 8, Lenora Rose 6 12, Aurora Lemieux 8, Natasha Levitan 10, Val Lakey Lindahn and Ron Lindahn 1, Samantha Ling 9, David Marusek 5, Fiona McAuliffe 4, Tiffanie McCoy 5, Terry McGarry 8, Jessie McKenna 4, Besty Mitchell 8, Syne Mitchell 8, Mary Anne Mohanraj 2, Mike Moscoe 8, Derryl Murphy 2, Pat Murphy 13, Nichelle Nicholls 13, G. David Nordley 9, Jerry Oltion 4, Kathy Oltion 4, Diana Paxson 10, Karen Perry 2 12, Bill Pierce 5 10, Tim Powers 1 2, Sergey Poyarkov 2, Ken Rand 8, Mike Resnick 13, Jonathan Richman 6, Kim Stanley Robinson 9, Dianna Rodgers 8, Rhea Rose 8, Jamie Rosen 12, Deborah J. Ross 10, Rowena 7, 13, Rudy Rucker 13, Robert J. Sawyer 7, Ken Scholes 8, Liz Shannon 8, Heather Shaw 9, Robert Sheckley 6, Diana Sherman 12, Gary Shockley 5 9, Felix Silla 11, Robert Silverberg 7, S.N.Arly 6, Wen Spencer 5, Ted Stetson 8, Carel Struyken 7, Patrick and Honna Swenson 2 8, Isaac Szpindel 7, Jason Taniguchi 7, Bruce Taylor 8, Jim Terman 1 5 9 10 12, Helen Thompson 6, Mark Tiedeman 4, Bjo Trimble 5, Jeffrey Turner 8, Mary Turzillo 12, Carol Ullman 6, James Van Pelt 6, Carrie Vaughn 10, Vernor Vinge 5, Nana Visitor 11, Ray Vukcevich 1 4, Garrett Wang 11, Lara Wells 5, K.D. Wentworth 13, Michelle West 12, Ken Wharton 1 3 4 5 12, Leslie What 8, Michael Whelan 8, Lori Ann White 1 2 3 5 6 8 10 12, Connie Willis 5 9, Eric Witchey 2 4, Jason Wittman 6, Gary K. Wolfe 9, William F. Wu 3, Susan Yi 5, Melissa Yuan-Innes 1.
Back to Frank Wu sci-fi art.